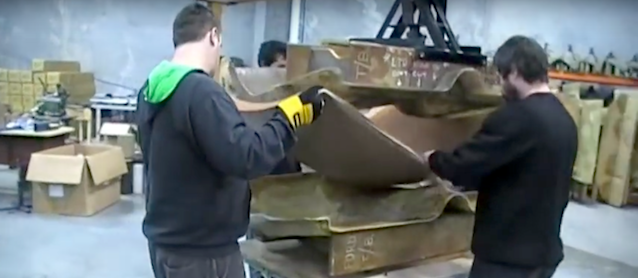 Have you ever wondered how automotive carpet is molded to fit onto a vehicle's floorboard so perfectly? Well then check out these two videos that show step-by-step how it's done!

The first video, courtesy of Australian aftermarket carpet manufacturer Knox Auto Carpets, demonstrates the manufacturing process of heating a flat piece of carpet to the proper temperature and sandwiching it into a mold of the vehicle's floorboard. A minute later the carpet has cooled and is removed from the mold. After a quick trim and binding the carpet is ready for installation.
The second video, courtesy of by French manufacturer MIB Hydro, follows the same process but on a more industrial scale, with machinery that requires much less human interaction and is capable of more intricate impressions.
Fortunately, auto upholstery shops like ours don't need to invest in such expensive machinery because for most vehicles molded carpet is readily available through OEMs and the aftermarket. However, seeing how vehicle carpets are molded sheds new light on one of the many products we deal with daily.