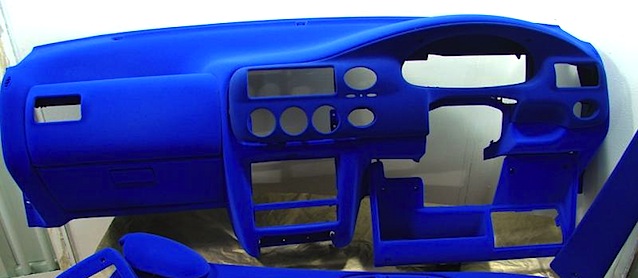 You may not have heard of flocking, but you've certainly seen the results. It's the process by which ground fibers are painted/glued to a hard surface in order to give it a soft, velvety feeling.
While flocking is most commonly used to line the inside of jewelry boxes, it can actually be applied to a wide range of surfaces – including plastic. In fact, many years ago automakers relied on flocking to give interior trim a more upscale look.
Within the auto trim industry, the process of flocking still holds practical application. DonJer Products Co., which sells all the necessary tools and equipment to begin flocking, has actually flocked a car's entire interior –  including dashboard, door panels and headliner. Other shops, like Banbury Flocking in the UK, focus exclusively on the service.
Personally, I wouldn't want to flock a full interior – as the process can be quite messy. However, I can definitely see myself using it to line the inside of glove boxes and center consoles.
To see how flocking is done, check out the following video by the Woodworkers Guild of America:
Tell us what you think: Do you already – or will you ever consider – offering flocking services? If so, where do you think it would work best in a car's interior?