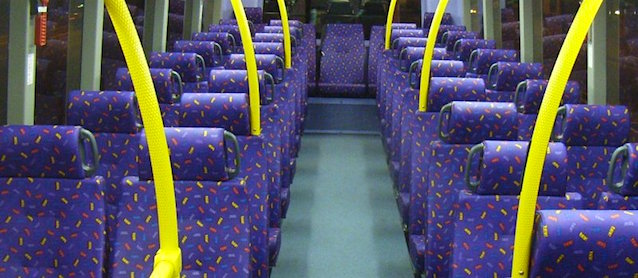 Have you ever wondered why bus and train seats are always upholstered in hideous fabric? According to BBC Autos, there are three very logical reasons for it. (Though none make us feel any better about having to order 20 yards of "confetti" cloth.)
In an article titled "Why is train-seat fabric so ugly?", BBC makes their case:
1. The Design Constraints: It has to last for years, be easy to clean, and it has to be able to resist or disguise stains both accidental and vandalistic. It must also seem clean, even when it's not.
2. The Design Process: A typical design job may involve the bus or coachbuilder, the seat manufacturer, a design team (internal or external), and representatives from the transport system itself — with sometimes three or four representatives from each party working on the design. … The end result can be a classic example of design-by-committee, with all the horror that entails.
3. Fashion is Fickle: Transport fabrics follow fashion just like any other designed commodity, with big name artists and textile designers fighting to create the next classic moquette. … The problem is that fashion trends don't last as long as transport fabric, which can have a lifetime of a decade or more. …  Imagine, then, someone still rocking black lace fingerless gloves and some not-so-white-anymore LA Gear trainers — in 1997 — and you have a pop culture picture of the design problem.
Of course that doesn't explain the confetti. To that end, James Newton, Director of Transport for Camira Fabrics, explains: "Franchises change all the time, and they do their own livery, putting their own fabric on there. A lot of them seem to want to fool you into thinking you're going on holiday every time you step on a bus, so everything has to be bright and vibrant."
Sadly, though, most people take the bus or train to work, not vacation. To read the full article, visit BBC Autos.