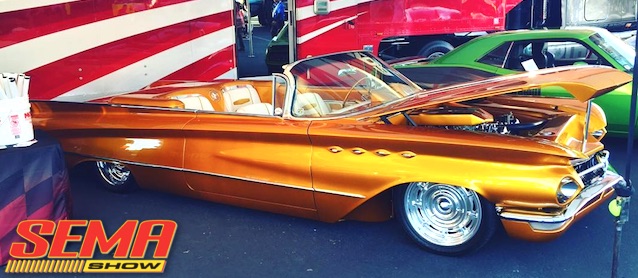 Day three of the 2016 SEMA Show was awesome. After two days of visiting booths and networking with company reps, we finally had a chance to walk the outdoor car show, take in some live rock music and watch a whole lot of crazy vehicle drifting. Of course, we also attended a few informational and skill-building seminars.
By far, our favorite seminar was "Automotive Interior Fabrication Tricks" hosted by Bryan Shmitt of Mobile Solutions. He covered a range of topics, from best practices for shop layout to upholstery seaming tricks for OEM-like interior panels. The seminar also included a live demonstration on how to properly use two-part urethane foam for contoured trim panels.
It was great to see so many upholstery and fabrication professionals attend the seminar, which provided loads of insight to rookies and veterans alike. Anyone who missed the seminar or is interested in continuing lessons with Mobile Solutions should definitely check out their boot camp schedule.
Between the seminars, we took advantage of the beautiful weather to walk the outdoor car show. We saw some jaw-dropping interior builds by upholstery shops, met a few THR members and even introduced our online community to a number new folks.
Over the next few weeks, we'll be publishing photos and articles from the show. In the meantime, check out our Instagram page, where you'll see SEMA photos and videos like this:
Unfortunately, today was our last day at the 2016 SEMA Show. But we're already making plans for next year! If we missed you this time around, rest assure we'll see you then!