Ish Jimenez, master trimmer and former star of MTV's hit television show "Pimp My Ride," singlehandedly made auto upholstery cool again.
Prior to the show's debut in 2004, the auto upholstery industry was idling. Very few young people were learning the craft, the vast majority of our customers were older, and to most automakers and enthusiasts car interiors were an afterthought.
Then suddenly – seemingly out of nowhere – the world's most popular TV channel for youth began broadcasting footage of Ish customizing car interiors in the wildest of ways.
Week after week, millions of viewers tuned in to "Pimp My Ride" to watch Ish, along with the entire West Coast Customs team, transform one teen's beat-up car into a dream machine.
West Coast Customs spared no expense and went to great lengths to wow and inspire viewers with every new project. Of course, head-turning body mods, paint and rims were a staple. But where the cars really shined was on the inside, where Ish wrapped seats, door panels, dashboards and more in beautiful leather and other fabrics.
His charismatic personality, creative eye and serious skills behind the sewing machine cast a spotlight on our craft and helped a whole new generation of car enthusiasts appreciate what we do.
And he didn't stop there. Since "Pimp My Ride," Ish has gone on to star in several other TV shows, including "Inside West Coast Customs" on Velocity and "Street Customs" on TLC. He even co-hosted a program on Telemundo.
Now on his own — running Royal Auto Designs in North Hollywood, California — Ish continues to use his fame and platform to represent the auto upholstery industry well.
We recently caught up with Ish to chat about his past success, new venture, the current state of the industry and plans for the future — including his dream to teach the next generation of upholsterers by hosting workshops in his garage.
We split the interview into a three-part series. Check out the first installment below:
Let's start at the beginning. How did you get involved in the craft of auto upholstery? And where did you receive your training?
Well, to be honest, the way I started, I was 11 or 12. It was back in 1983, '84. Growing up as a Mexican in South Central Los Angeles, you only had two choices: You join the gang or you join the gang. I started gang banging when I was like 12 years old.
I got caught up in some trouble and I was put on probation. So my mom used to come pick me up from school and drop me off at my uncle's [auto upholstery] shop. He used to have a shop on Vermont and Florence Avenue, South Central Los Angeles. At the beginning, I didn't like the idea to work for my uncle. Then, I started making money. I said, "Man, this is what I'm going to do." I knew right away that I wasn't good for school, so I stuck with upholstery. Next thing you know I was doing things on my own, like, "Oh shit, this is good!"
So it was your uncle who trained you. How long did you stay with him?
I worked with him a little bit less than three years straight. It took me like two years and a half to learn the trade. Then, after that, I start doing things on my own. Then, going back and forth with him. You know that was family. I love my uncle, so I kept going back and forth.
Then did you open your own shop?
No, not really. Like I said, I was a troublemaker when I was a little kid. I learned the trade, then I went back to the streets, getting myself in trouble. I never had the chance to open my own shop til 1994. I opened a shop in South Central and actually I was doing really good. I was like 20-something years old and had a badass shop in South Central. I was doing good, but at the same time I was messing up on the streets. I got caught up on some other bullshit, so I had to shut the shop.
What was the name of that shop?
I did not even have a shop name, bro. … Everybody used to call me "Little Homie," and we used to call [each other] homies, homies, homies…it's like, "Hey, just go to Homie's." They knew that was my spot. I never named the shop, everybody knew, "Just go to Homie's."
Eventually, though, you stopped getting into trouble and hooked up with West Coast Customs, where you worked on a lot of amazing projects and were even catapulted to fame on the hit TV show "Pimp My Ride." How did that come about? And how has being famous changed your life?
I ain't going to lie, it was good. … I remember back in 2001, some people walking through West Coast. … We were really known because we used to do Shaquille O'Neal's cars, Kobe Bryant, Tracy McGrady and Mystikal. When I saw those people coming into the shop, Ryan [owner of West Coast Customs] put a quick meeting together and he said, "Hey, man, these guys are from MTV. They want to do this." I said, "Fuck it, let's do it!"
Next thing you know, we're like everywhere. "What's up man, what's up pimp? What's up? What's up?" Like, "Oh shit!" That was a good thing, though, to be honest. I was young. I enjoyed it. It was good money, a lot of women, and a lot of fun.
Suddenly everyone knew your name. You became a celebrity.
Yeah. That was the other story. People were like, "Oh man, you're the best!" I said, "No, man, I'm not the best. I'm just the lucky one, I guess." You understand what I'm saying? That's how I feel about that. That was some blessing. It was a good experience.
Do people still recognize you to this day? 
Oh yeah. After "Pimp My Ride," Ryan did another show with TLC. Then, Velocity. Then, I starred in my own show on Spanish television. I did like three seasons for Telemundo.
No kidding. What was that show called? 
"Nitido" like "neat." I was a co-host in the West Coast, the main host was in Miami, Florida. Just to cover everything, auto show, whatever has to do with cars on the West Coast. That was good. People, at some point, they were telling me, "Man, you should go to Hollywood." I said, "No, man." At the end of all these things, I want to be doing what I love to do: cars.
I am who I am because of what I do. I want to be like Mr. George Barris, rest in peace, good friend of mine. He's going to be remembered as a car guy. He's a legend in the car industry. If I got blessed to be recognized like that one day, like, "Oh yeah, the upholstery guy." That would be my major accomplishment.
These days, you're no longer doing TV. And I hear you left West Coast Customs, is that correct?
I'm not at West Coast no more, bro. After 16 years, I decided to open my own shop.
When did you leave West Coast Customs and for what reason? 
Like seven, eight months ago. Know what? When I started working at West Coast Customs, it was like a friend relation between me and the CEO. The company started growing to the point that he had to bring people to help him run the company, which is understandable. There's no way that he can control a big company like West Coast by himself. With that, it brings distance. I wasn't feeling it no more. I was feeling like I was working for the White House or something.
Like a big corporation, as opposed to the small close-knit company it started out as?
Exactly. Like okay, now you're not allowed to talk to the boss "unless you go through me." … I got tired of that. At the same time, I got a lot of people telling me, "Man, why don't you open your own shop?" One day, I just woke up, I said, "Man, you know what? That's it." I never went back. And I'm not planning to come back.
Well, congrats on the new shop! Tell us about it.
It's called Royal Auto Designs in North Hollywood. So far I got six guys working for me, but I'm doing a little bit of everything. I'm doing paint, body kits, lowering. … I try to do everything in-house. Although my main thing is still upholstery. That's what I'm really known for, upholstery.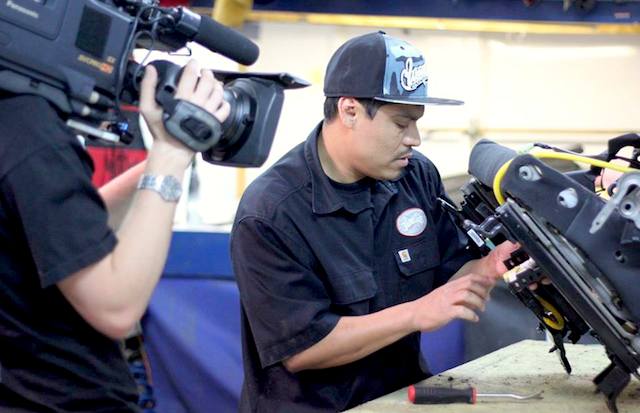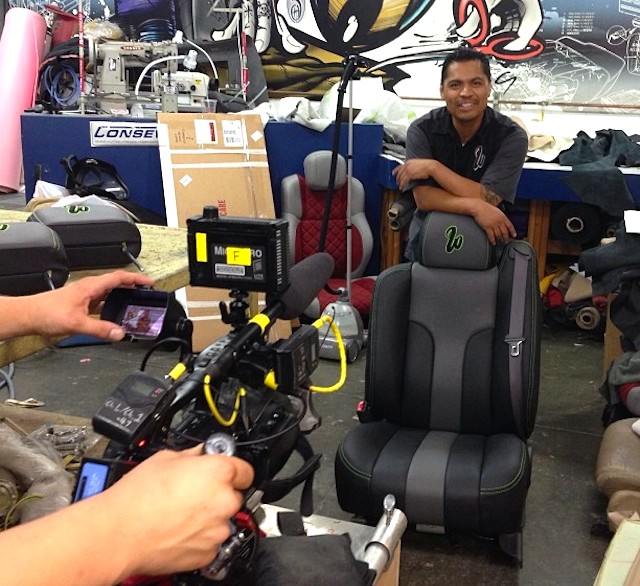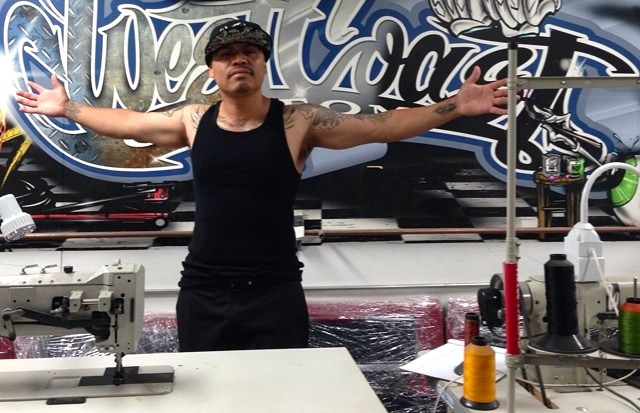 Stay tuned for part two of our three-part series, in which Ish Jimenez talks about the technical side of auto upholstery. Among the topics we discuss are how he comes up with his ideas for interiors, repairing sewing machines, steaming leather and wrapping dashboards.
Also, check out Ish's new shop Royal Auto Designs online at RoyalAutoDesigns.com, and follow them on Instagram.