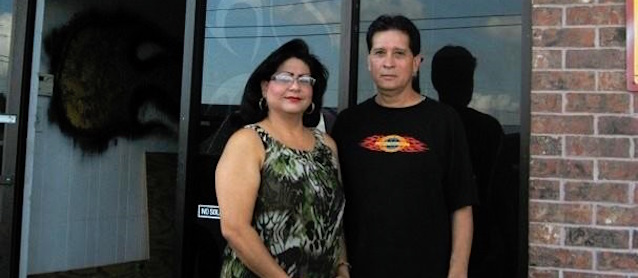 Some people are absolutely heartless…
Less than 24 hours after Raul Lugo of Kustom Kraft Upholstery in Corpus Christi, Texas, died, his widow says the auto upholstery shop was robbed of $30,000 in power tools.
"I haven't even laid my husband to rest and they took whatever I was going to survive with," Mary Ann Lugo told Action 10 KZTV.
"It's very devastating. And you know that's such disrespect for someone to do that," she added. "Especially in a time of mourning and not even having put my husband to rest yet."
Mary Ann said she went to the shop on Monday to hang a sign on the door informing customers they were closed due to a death in the family. The next day she discovered the backdoor's lock broken and the tools and air compressor missing.
Surveillance video shows two unidentified men entering the shop from the back door. However, the camera then flips upside down and loses focus.
Mary Ann told Action 10 KZTV that she believes the robbery may have been an inside job. "You know, nobody ransacked my office, they knew what valuables exactly to take that were easy to steal."
In business since 1983, Kustom Kraft Upholstery is an award-winning shop that has been featured in numerous magazines, including Truckin Magazine and Camaro Performance. Mary Ann planned to keep Raul's legacy alive through the shop, but can't keep it open without the missing tools.
"It will be great help if somebody can just let us know where these people have put our stuff, if I don't get it all back, maybe just the most important things because I don't even have the basics to start with," said Marry Ann.
Police are still investigating the crime. They're asking the public to report any information to Crime Stoppers at 888-TIPS. When the culprits are found, we will induct them into The Hog Ring's "Hall of Shame."