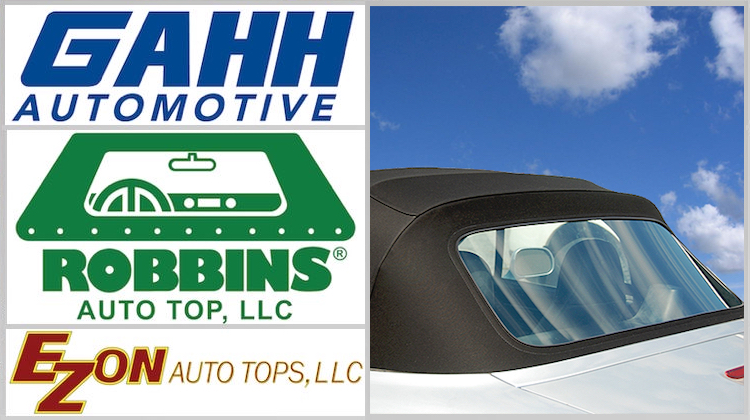 We're proud to introduce The Hog Ring community to our newest site sponsor: GAHH Automotive Group.
Trimmers know GAHH Automotive Group as the manufacturer of GAHH-brand aftermarket soft tops and interior trim. But did you know they also own Robbins Auto Top and E-Z ON Auto Tops? Together, the three companies are a powerhouse in the auto trim industry.
In fact, there aren't too many trim shops in the United States that haven't ordered and installed one of their tops.
"GAHH Automotive Group is excited to support The Hog Ring in the same way our companies have been supporting the trimming community for a combined 146 years," Said Rodney Wells, CEO of GAHH LLC. "We will continue to support the industry with excellent products, ready availability, and competitive pricing"
Here's a little more about the companies we're now proud to call sponsors:
GAHH Automotive
In 1979, GAHH opened shop as a manufacturer of aftermarket soft tops for Mercedes-Benz vehicles. Since then, it has expanded its scope to include tops for nearly every automaker. GAHH has even become renowned for its interior kits, which include seat covers, headliners, carpets and other related trim.
Today, the name GAHH is synonymous with quality and innovation. Case in point: Check out their Infinity integrated window system, which is engineered to include a support structure and direct-to-topping material glass bond that result in an aftermarket top that's equivalent to an OEM top both structurally and cosmetically.
With so many products in its lineup, GAHH considers itself a one-stop "satisfaction center" for trim shops.
GAHH manufactures its products in North Hollywood, California.
Robbins Auto Top
What began as a small, independent auto upholstery shop in 1943, has since grown to become one of the largest manufacturers of quality convertible tops.
It all started when the Robbins family got the idea to start manufacturing and shipping tonneau covers for MG, Triumph, Jaguar and Porsche to mail-order customers throughout the United States. By 1970, the company went international and hasn't looked back since.
Today, Robbins stocks more than 500 different convertible tops, tonneau covers, glass and plastic windows for American, European and Japanese convertibles.
Robbins manufactures its tops in Oxnard, California.
E-Z ON Auto Tops
Founded in 1989, E-Z ON is known for its OEM manufacturing processes and strict quality control methods, which put their tops on par with some of the biggest automakers in the world.
That's because E-Z ON used to manufacture soft tops for the Chevrolet Corvette C6. In doing so, they had to implement OEM manufacturing processes and quality assurance tests. In the early 2000s, the company shifted focus to manufacture aftermarket soft tops, but its OEM processes remained.
Today, E-Z ON tops are renowned for their accuracy and close tolerances, ensuring a perfect fit every time.
E-Z ON manufactures its tops in Iva, South Carolina.
Welcome to The Hog Ring!
With three manufacturing plants — that all share knowledge, resources and expertise — GAHH Automotive Group has become a giant in the auto upholstery industry. All three brands are now available from either distribution or factory direct.
And now they're throwing their support behind The Hog Ring.
"The Hog Ring gives voice to trimmers and gives us an additional window to the marketplace and our customers," Said Wells. "We admire the Hog Ring's vision and look forward to a long relationship."
GAHH Automotive Group chose to sponsor The Hog Ring because they believe in our mission to grow and strengthen the auto upholstery industry. Their sponsorship will help offset the costs of running this website, and allow us to continue bringing you industry news, product reviews and more
Please join us in welcoming GAHH, Robbins, and E-Z ON to The Hog Ring community.