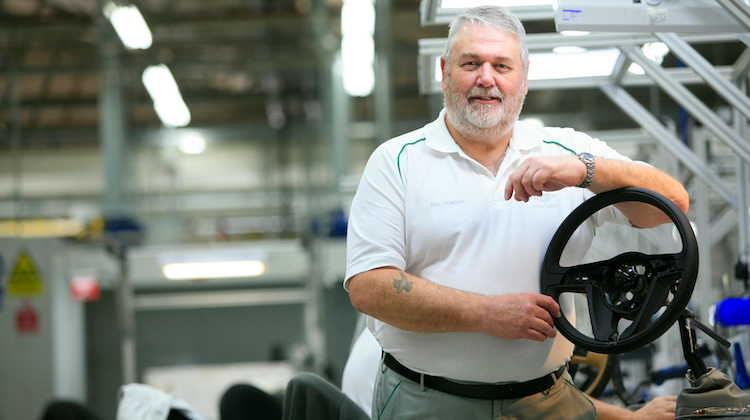 No one believed us when we said trimmers at Bentley Motors use dinner forks to mark equally spaced holes on steering wheel covers. Now we have proof!
Bentley is honoring it's longest-serving employee, trimmer Noel Thompson. He joined the company as an apprentice at the age of 16 on September 1, 1969. Fifty years later, he's still with the company.
Over the years, Noel has become a master of the craft, trimming countless super luxury vehicles for elite car buyers. These days, however, he specializes in bespoke steering wheels.
In a statement honoring Noel, Bentley writes:
His craft involves punching perforated lines into soft leather hide to be sewn later entirely by hand. Noel famously uses a dining fork to ensure that the stitches are evenly spaced on each and every unique steering wheel that he creates.
He once said, "If it works, it works. So why wrap steering wheels any other way?" Noel claims to have sewn more wheels than anyone else at Bentley!
If that's not enough proof, Bentley also released a video of Noel explaining the process.
In the video, Noel says: "When we first bought these machines…we tried to have it punch all the holes in for the stitching for us, but it just wasn't accurate enough. So what we've done, we've gone back to the old way of doing it and we actually use a fork."
"A lot of people are surprised that we use a fork, but we found it is the best way of giving us the four equidistant points," he added. "The simplest way sometimes is the best way."
There you have it folks! Bentley does, in fact, rely on a simple dinner fork to trim its super luxury bespoke steering wheels.
Congrats to Noel! We wish him lots of happiness and success as he continues his long and storied career with one of the greatest automakers in the world.