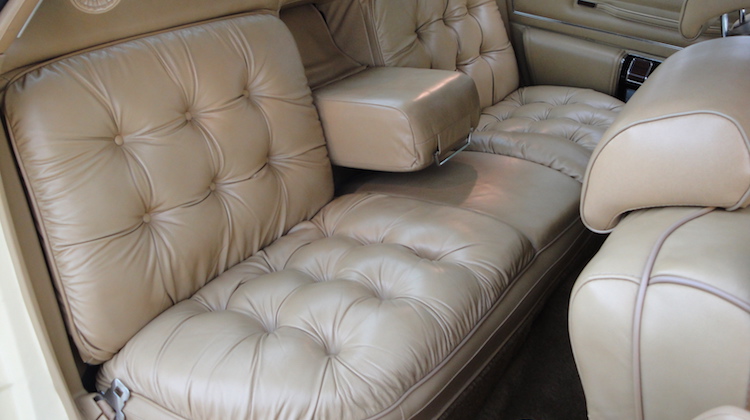 We've all heard of Corinthian leather — that soft, supple, ultra-luxury hide used to trim 70's era Chryslers. But do you know where it comes from?
Most people would guess Corinth, Greece. After all, nothing says old world craftsmanship like sourcing your leather from a city founded in 700 BC.
It's a good guess. But it's about 5,000 miles off.
The real source of Corinthian leather? Newark, New Jersey.
Yup, "The Garden State," home to Bruce Springsteen and Mike "The Situation" Sorrrentino.
It turns out, there's actually nothing "Corinthian" about the leather. The term was tacked on by Bozell, the same advertisement agency that coined the phrase: "Pork. The other white meat."
Bozell first referred to leather as "Corinthian" in an ad for the 1974 Imperial LeBaron. However, it's most usually associated with Chrysler marketing campaigns, beginning with the 1975 Cordoba.
Who can forget celebrity spokesperson Ricardo Montalbán's thick Mexican accent? "Available in even soft Corinthian leather."
Montalbán succeeded in making the Cordoba's leather upholstery sound exotic. In actuality, a company based just outside of Newark supplied the hides to Chrysler.
In 1987, when Montalbán appeared on "Late Night with David Letterman," he admitted that the term "Corinthian" meant "nothing."
Letterman asked: "Is there anything really Corinthian leather? Is that anything?"
Montalbán replied: "They found a leather that was very pliable, very soft and very durable. …(the commercial writer) wanted to find a word that sounded sort of elegant that I could say… And so Corinthian."
Letterman interjected, "But does it mean anything?"
"Nothing," said Montalbán, as the crowd erupted in laughter.
So there you have it folks. Corinthian leather actually comes from New Jersey and is definitely not as special or exotic as it sounds.
It was just one giant marketing campaign that endured and no one ever questioned. In fact, to this day used car ads boast about 70's Chryslers having Corinthian leather.
When you spot one, smile and chuckle to yourself, because now you know it's all bullshit.
For more old school articles, check out our "Industry History" section.