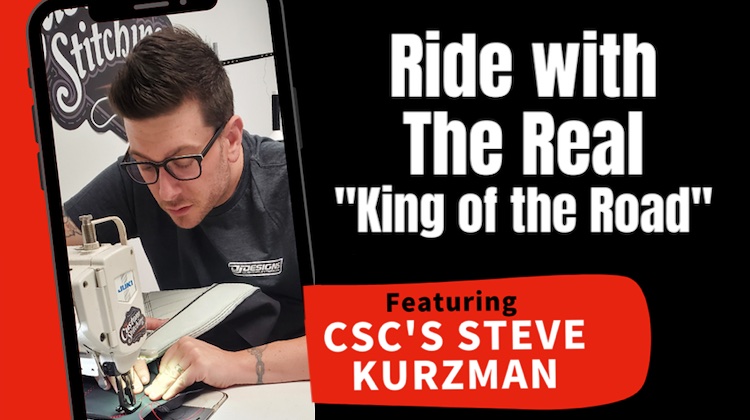 The latest episode of NC Shop Talk features Steve Kurzman of The Custom Stitching Co., one of the most innovative motorcycle and auto upholstery shops around.
NC Shop Talk is the industry's first podcast. It's hosted by Mal Maher of NC Carpet Binding & Equipment.
In the podcast, Steve sheds light on how he learned the craft, his pioneering new website, and even how he deals with copy cats. It's a fun and insightful listen. You definitely don't want to miss it!
Ride with the Real "King of the Road" — CSC's Steve Kurzman
What does it take to become a master trimmer? Aside from getting formal training, nothing beats years of hands-on experience and a love of the craft. After years of being known as "the owner's son," his ambition to create something on his own drove Steve Kurzman to open The Custom Stitching Co. in Charlotte, North Carolina.
The Custom Stitching Co. is not your average upholstery shop. Founded in 2013, the shop quickly gained a reputation for thinking outside the box and applying design-forward creativity to all projects. CSC prides itself on delivering cutting-edge designs, no matter if it's a large-scale bespoke interior or one of CSC's signature Harley Davidson restyled seats.
You can listen to the episode on Apple Podcasts, Spotify or anywhere else you stream. Just click here, and make sure to subscribe!
To see Steve's work, visit CustomStitchingCo.com, and follow his shop on Instagram and Facebook.
To learn more about NC Carpet Binding and Equipment, visit their website and follow them on Instagram and Facebook.