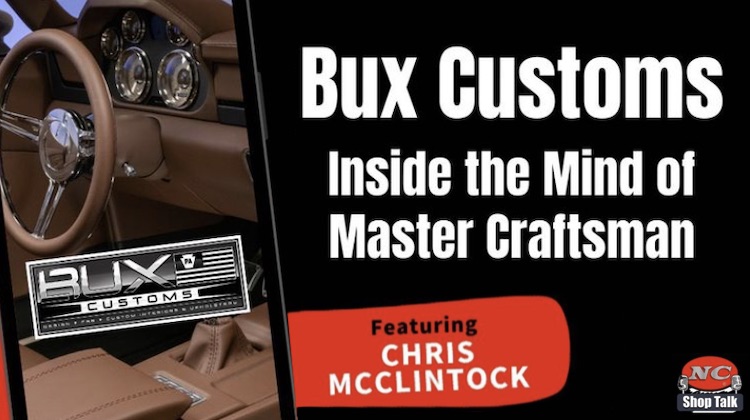 Tune in to the latest episode of NC Shop Talk to hear Chris McClintock of Bux Customs talk about his journey in the craft of auto upholstery.
NC Shop Talk is the industry's first podcast. It's hosted by Mal Maher of NC Carpet Binding & Equipment.
In the podcast, Chris talks about how he learned the craft, his design inspirations and goals for the future.
Bux Customs: Inside the Mind of Master Craftsman Chris McClintock
This week, Mal Interviews Chris McClintock about his journey from working in his family's pizza shop to establishing Bux Customs in a small town in Pennsylvania. Today, Bux Customs is known for custom high-end automotive interiors.
Chris' story is inspiring because he succeeded in an industry that is very different from what he knew His stunning designs and detail-oriented craftsmanship have won him awards, making him one of the most sought-after hot rod trimmers in the United States.
You can listen to the episode on Apple Podcasts, Spotify or anywhere else you stream. Just click here, and make sure to subscribe!
To learn more about NC Carpet Binding and Equipment, visit their website and follow them on Instagram and Facebook.