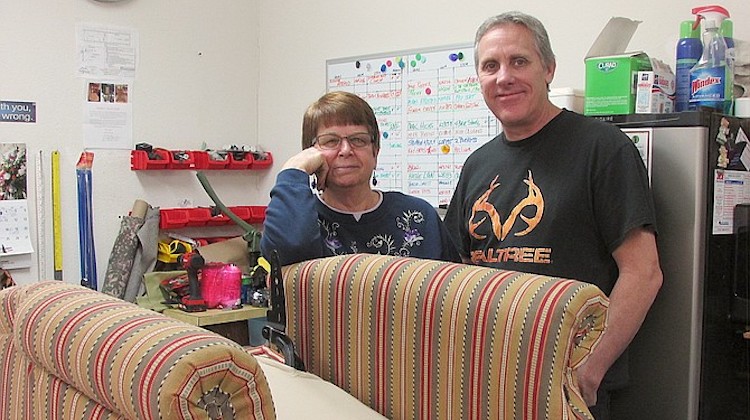 Linda Bell of Tweed's Upholstery in Gardnerville, Nevada, is retiring after nearly 40 years in the business.
"It's been a real ride, I've enjoyed every minute of it,"she told The Record-Courier. "I enjoy my customers and my work. It's going to be hard to let go and hand over a baby you've raised, but the hands are wearing down and it's time to pass on the needle."
Linda, 55, has sold her shop to two longtime customers, who will take over auto, marine and furniture repairs starting on December 20, 2021.
"It's going to be a surprise to a few, but it will be a good surprise," Linda said. "They're [customers] in good hands and we're trying to reassure everyone that things will continue and the same services will be provided."
Linda learned how to sew from her mother and grandmother, and got turned on to upholstery by a friend who had a shop in a nearby town. At only 18 years old, she tackled her first project — seats from an old pick-up truck.
Soon after, she opened an upholstery business in her living room, before transitioning to her garage.
"People would drop stuff off right in front of my garage at that time, or my living room always had some project in there," she told the newspaper.
Finally, in 2000, Linda opened Tweed's Upholstery. "You name it, we do it," she said. "I've done everything from a helicopter to a baby buggy."
"To take something in that looks like the dickens then turn it around into something beautiful is my favorite part of any project and seeing people's faces."
In retirement, Linda plans to take up another creative endeavor: painting.
Please join us in wishing Linda a happy and fulfilling retirement.