Like most trimmers, we start each day with a hot cup of coffee — which is why we were excited to learn that Spotlight Customs just launched its very own brand.
Sean and Dena O'Neill, owners of the custom trim shop in Hartville, Ohio, recently sent us a care package, including two bags of their freshly roasted and ground Spotlight Coffee, tumblers and more.
We quickly brewed a pot, fully expecting it to be good. We just weren't prepared for how good…
Spotlight Coffee overwhelms the senses. It has an intoxicating cocoa aroma, a rich flavor with a hint of nuts, and a smooth finish. It wasn't long before one cup turned into four cups. And after a few customers caught whiff of what we were brewing, we had to make another pot.
Of course, we needed to learn the backstory. Why would a successful trim shop launch a brand of coffee? And how the hell did they make it so good?
To answer those questions and more, we caught up with Sean, who told us all about it.
We know you're a lifelong car guy. Do you consider yourself a coffee connoisseur as well?
I remember walking to the bakery with my Pop-Pop (grandfather) to get a fresh loaf of bread to make toast with. Then he would brew a fresh pot of coffee and let me have a few sips. The love and taste for coffee has been with me since childhood.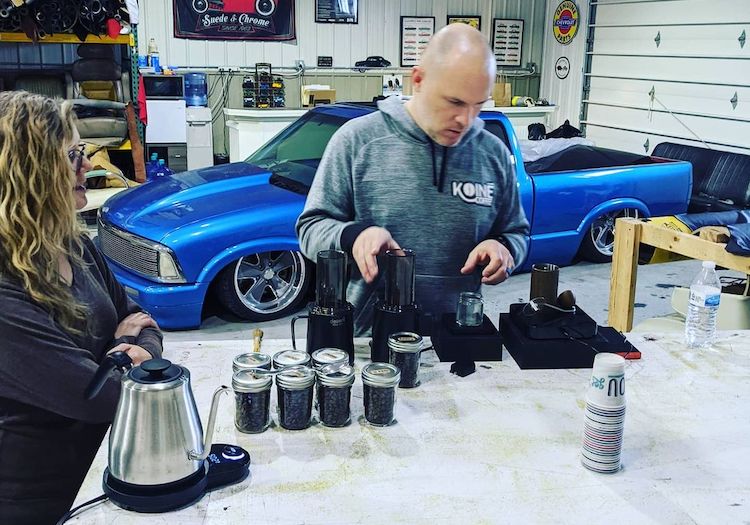 You started selling your own brand of coffee. It's a pretty big departure from custom auto upholstery. What sparked this new project?
What goes better with cars, than coffee!? We met a couple who had a fledgling coffee business, Koiné Coffee, and they needed the interior of their mobile coffee trailer finished. We became friends along the way and the idea hit me as I was working on the trailer. Then we had a tasting session where they walked me through several different blends and roasts until we found the one that suited us best. That classic roast became Spotlight Coffee.
With a successful auto shop, where do you find time to run a second business?
There is always time for the things we make time for. It has been a slow process, as the main business of Spotlight Customs always takes priority. My wife, Dena, has been a huge help getting the packaging and website squared away. Getting help is the key!
So is this a fun, short-term side hustle? Or is this a serious business?
It's a fun side hustle for now. I originally just wanted something small to give to our interior customers. Once we started getting consistently good feedback from people who have consumed the coffee, we decided to fan the flames and put some up for sale. We hope to keep growing in time as the coffee is a good complement to our interior business.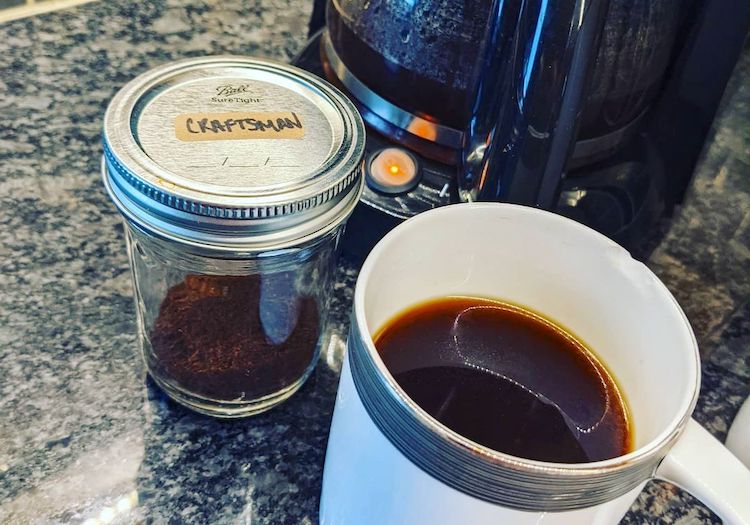 You mentioned Koiné Coffee, a local coffee shop. Why did you choose them? And what do they contribute?
Geoff and Amy, Koine's owners, were sponsoring a charity event that we were attending and we had an instant connection. After tasting their coffee, I was hooked. Geoff roasts the beans himself and has a deep knowledge of coffee that gives us a consistent product. He has been very generous in sharing his time and knowledge.
You mentioned on Instagram that Koiné Coffee helped you create three unique blends. Can you tell us about them? Also, which is your favorite?
During our tasting session we did choose three blends, but we have now narrowed it further down to one. The classic blend has some brown sugar and cocoa aroma that leaves a "toasted" characteristic. It's smooth like velvety chocolate with hints of macadamia nut and a slight twist of lemon. Simply put, it's a very smooth tasting coffee that is not bitter to the palette. It's perfect for everyday brewing for hot or iced coffee.
When did you launch the business? And what has the response been like?
We officially launched products for sale just last month. I have been giving out samples for six months or so and the responses are the best part. People really like it because it's smooth and bitter even when I drink black (the only way to drink coffee in my book).
What role, if any, does Spotlight Coffee play in your auto upholstery shop?
We plan to use it as a tool to further engage our local car community by hosting "Cars and Coffee" events of our own and continued sponsorship of other events.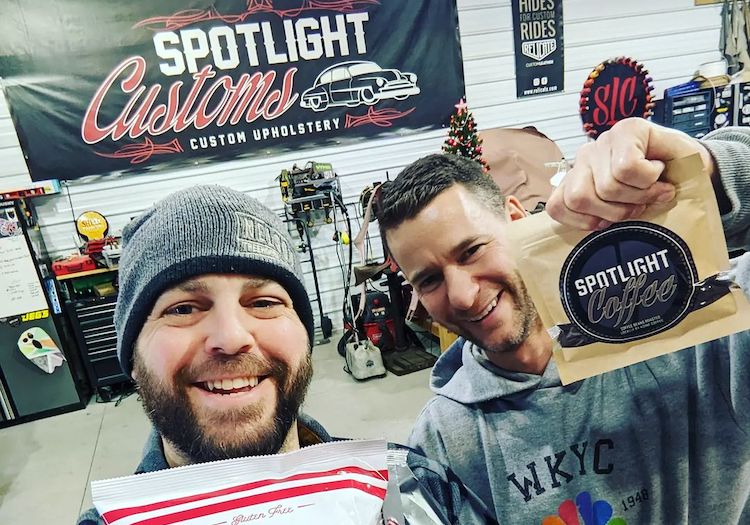 Ok, so describe to us your perfect cup of coffee. How many cups of it a day do you drink?
The perfect cup is the first cup of the day. I'm up every day by 5 am to start my routine and brewing coffee is the first part of that routine. I drink it straight black to really get the full taste and aroma. It's cold here in Ohio right now so I tend to drink a little more coffee during the winter months, typically 3 to 4 cups.
Finally, how can members of The Hog Ring community buy a bag of Spotlight Coffee?
We have just launched coffee for sale at spotlightcustomsllc.com/spotlight-coffee. You can also follow us on Instagram.
---
To learn more about Spotlight Customs and see their jaw-dropping auto upholstery projects, visit their website and follow them on Instagram.