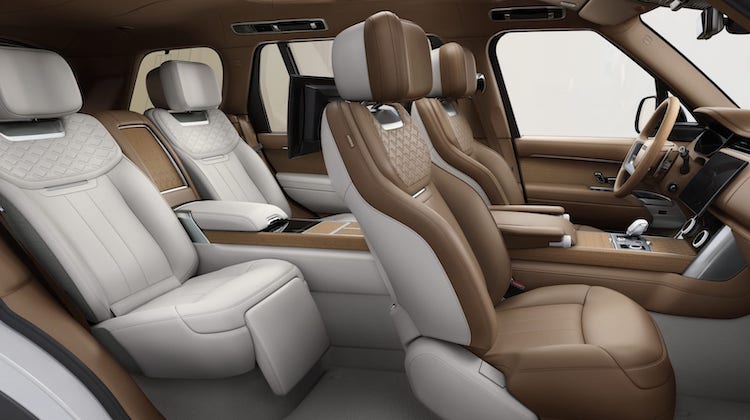 Have you ever wondered who picks the colors and materials used in the designing and manufacturing of cars?
Every automaker employs a team of color and materials designers who do it. Their job is to choose the best color and material combinations to make an interior pop. Of course, their choices must also meet the vehicle's demands.
It's an interesting job that has grown in importance as automakers continue to move beyond black, beige and gray interiors. In fact, today's interiors are more colorful, luxurious and sustainable than ever before.
To learn more about the job, Autoblog recently spoke with Hannah Custance, the color and materials design manager for Jaguar Land Rover. Here's an excerpt from the interview:
Autoblog: What does a color and materials design manager to do?
Hannah Custance: I basically look after a team of designers who design finishes for every A surface on the car. So, that could be exterior finishes. It could be interior trim materials, soft materials, hard materials, chromes, metals, woods, ceramic – that's one of the new ones – anything you can kind of touch and see is color material design.
Autoblog: How early in the design process does your team become involved.
Hannah: Right at the very start. In fact, we look at materials that don't have a product assigned to them or a car assigned to them. So, it takes actually a very long time for us to get materials approved and fully validated. We have to find suppliers that are willing to work in automotive and our test standards are incredibly high, some of the highest in the industry. So, we often have to have all the materials fully validated even before the shape of the seat or the shape of the car is even fully signed off.
Autoblog: It seems like both customers and brands have an increased openness to color and different materials. That must make your job that much more satisfying. Is there another development or trend you would love to see continue or catch on more?
Hannah: You're absolutely right. It's a fantastic time to be in the industry … I'm seeing a massive change in the importance of color and materials as a discipline. You know, it's low investment, there's no new tooling required a lot of time. It creates high visual value. And I think what I'm seeing is a real shift, not just at JLR, but in the industry as a whole and other industries as to how important it can be and how much it can make a product.
Customers are (also) becoming so much more sustainably aware, thinking about the environmental impact they have. That's providing us with a lot of challenges, but also a lot of positive design changes as well.
We're currently working on the first non-leather interior for SV [the ultimate Range Rover option]. And I think that's quite a statement for us, you know. It's a technical-feeling interior, it's not an alternative to leather. It's different, it's a customer choice. I think that's been really important to us to make sure it is a luxury offer. It is not an entry-level option for customers.
I think that shift away from leather is something that I want to become more popular. In particular, I think there's a lot of scope and product enrichment that we can develop through textile application, whether it's through jacquard, and graphic developments and textiles, whether it's through sustainable yarns. And I think that they're massively undersold.
There's so much scope within textile. And I think we need to kind of delve into that and communicate it to the public because the world is your oyster when you get into those kinds of materials. It's not skin, you're not stuck with that material finish or how it has been treated or tanned. There's much more choice.
The interview also touches on her background, how she landed the job, and where her team finds their design inspiration. It's altogether an insightful read, especially for interior pros like us.
To read the full interview, see: Who picks car colors and materials? Designers like Hannah Custance.