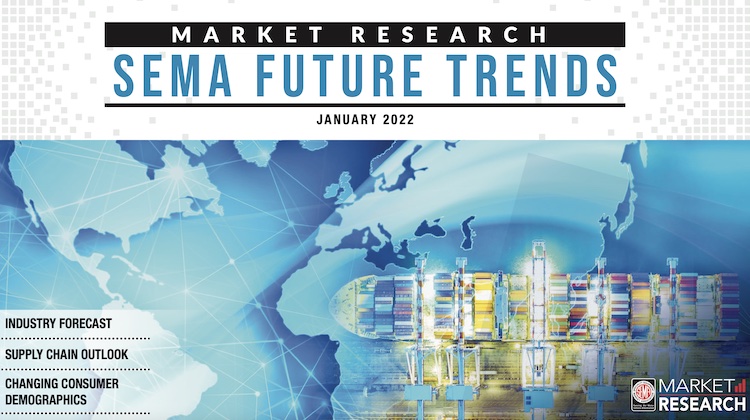 Curious how the ongoing coronavirus pandemic, supply chain issues, inflation and the labor shortage are impacting the automotive aftermarket? Then check out SEMA's 2022 Future Trends Report.
The in-depth report, produced by the SEMA Market Research Team, provides valuable insight and information to help shops navigate the changing industry.
"We can't truly predict your future. There are going to be a slew of happenings none of us expect this year that will help drive the industry's results. But this report will help you understand the trends and forecasts around some of the industry's important drivers, so you can better plan your business efforts for the next year and beyond," said Gavin Knapp, director of market research for SEMA.
Here are some of the reports key takeaways:
The Industry: Overall, 2021 was a strong year for this industry amid high demand, with many companies reporting record growth. The specialty-equipment market should continue to grow in 2022, but at more muted levels, before returning to more normal (pre-pandemic) growth for 2023 and beyond.
The Economy: Despite ongoing uncertainty, 2021 was a strong year for the U.S. economy amid record demand and consumer spending. The U.S. economy will continue to grow in 2022, but at lower levels than in 2021 due to significant headwinds. By 2023, however, the economy should be back to pre-pandemic growth levels
Supply Chain Issues: Supply chain disruption will continue to be an issue in 2022, but the worst is likely behind us. SEMA Market Research projects that most issues should improve to more normal levels by the end of 2022. Prices are likely to remain somewhat elevated longer however — likely into 2023.
Changing Consumer Demographics: Consumers interact with our industry differently depending on their stage of life. Even as the population ages, consumers under 40 will continue to make up the majority of specialty-equipment spending over the next decade. Despite popular misconceptions, many young people do care about their vehicles and are accessorizing.
Want to know more? To read the full report, download a free copy by clicking here.