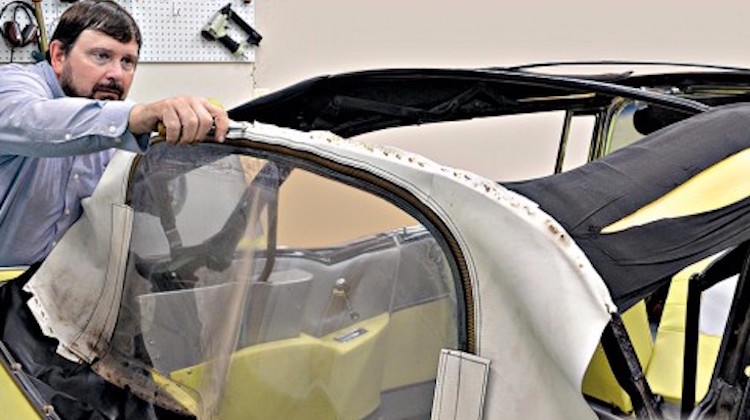 Whether you're a rookie or seasoned auto upholstery professional, pick up a copy of "Automotive Upholstery & Interior Restoration" by Fred Mattson. The newly published book is essential reading for everyone in our craft.
Fred is owner and operator of Convertible Tops and Interiors by Fred in Coon Rapids, Minnesota, where he specializes in Corvettes and scratch-built restorations on vintage cars. He's also a longtime friend of The Hog Ring, who has written a number of excellent articles for our community.
With nearly 50 years of experience in the craft and a firm commitment to seeing the industry grow, Fred is the perfect person to write a book about auto upholstery.
In "Automotive Upholstery & Interior Restoration," Fred covers a range of topics — including the tools of the trade, sewing, pattern making, seat restoration, door panels, armrests, bow-style headliners, cutting and sewing carpet and convertible top installation.
The book is nearly 200 pages long, providing in-depth instructions and loads of high-resolution color photos illustrating the processes. Fred's instructions and advice are clear and easy to follow.
Although the book is written for novices, veteran craftsman will also find it enjoyable and may even pick up a few tips and tricks along the way.
"The book is being sold as a 'How To' book, but I wrote it more for the person that might want to begin a career in the auto trimming business," said Fred. "The detailed step-by-step procedures and photographs are from my perspective on what you need to know to get professional results when working on a project."
Fred's passion for training the next generation of auto trimmers on the proper techniques of our craft is inspiring. I highly recommend this book to any trimmer who wants to learn the ins and outs of classic car interior restoration from an experienced professional.
To order your copy of "Automotive Upholstery & Interior Restoration," visit CarTechBooks.com or call 1-800-551-4754. The book costs just $29.95 plus shipping.