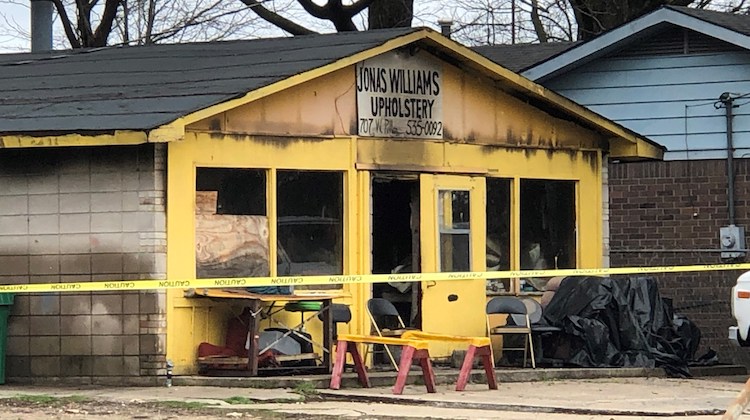 One person is dead after a fire broke out at Jonas Williams Upholstery in Pine Bluff, Arkansas.
Authorities dispatched five fire crews to the scene on March 22 at 9:26 a.m., according to a report from Pine Bluff Fire & Emergency Services. They extinguished the blaze by 11:14 a.m., but not before it destroyed the business.
The shop, which repairs automotive and furniture upholstery, had been in business for about 60 years. It also has a residential apartment in the back.
Jimmie Lee Jr., 37, who lived there, noticed the blaze while walking back from a local store.
"So, I said, either somebody's cooking, or something else happened," Lee said. "When I came back, the door was open. It was cracked. I was looking, and I said to myself, any wind that comes in is going to intensify the fire, which that's what happened. The other guy, he was laying down. I asked, 'Where's the fire coming from?' He said, 'It must be coming back from there,' which it was," he told Arkansas Democrat Gazette.
"So, now, it was coming outside the house. It went from white smoke to black smoke — bam!"
Joseph Trotter, 71, a nearby resident, said the fire started in the back of the building, near the apartment, but couldn't say how it began.
Authorities have yet to identify a male resident found dead inside the building, nor have they commented on his cause of death. The cause of the fire is also still under investigation.