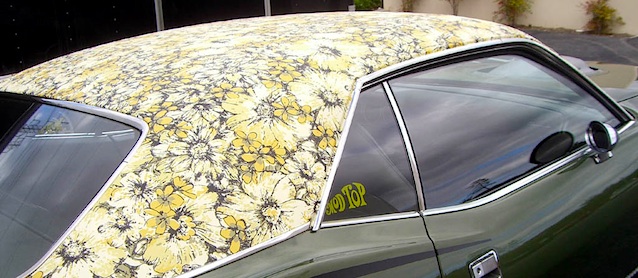 Did you know that in an effort to attract more women customers, Mopar outfitted several of their 1969 to 1970 models with floral patterned interiors and vinyl tops? These psychedelic rides were known as Mod Tops.
Taken from a creepy 1969 Plymouth Advertisement:
Look what Plymouth's up to now… A floral vinyl top. Or floral seat and interior trim. Or both.
Who needs it? Anybody with a penchant for the different. The exciting. The original.
Why did we do it? To win you over to Plymouth, naturally.
We've been designing cars with women in mind for years. Maybe that's why we have the biggest selection of interiors in the business. More colors. More fabrics and vinyls. More choices in seat designs… If the print pictured on our Barracuda Sport Coupe doesn't win you over there is an aqua and blue floral pattern available on our midsized Sport Satellite. And many other features with women-winning ways.
See your nearby Plymouth dealer. He has a whole mad, mod story. He's fond of women, too.
Mod Tops were available in yellow, blue or green and were installed on popular Dodge and Plymouth models such as Satellites, Barracudas, Swingers, Darts, Coronets and Super Bees.
Although the look was fitting for the time, Mod Tops only lasted for two years between 1969 and 1970 – resulting in only 2,876 vehicles produced with the option.
The website Moores MoPars has put together an impressive registry of known Mod Tops – which includes helpful information, pictures, and even leads for places to purchases OEM and reproduction floral vinyl.
Love it or hate it, the rare option adds value to these cars.  But it also raises an interesting question: If your restoration project came factory with a floral vinyl top and interior, would you keep it or change it to suit your taste?