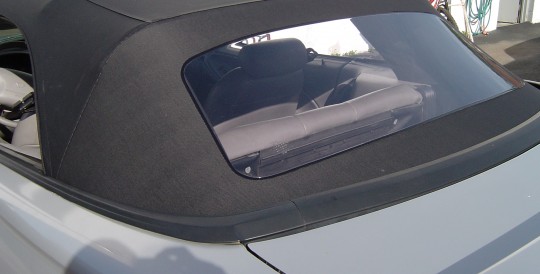 I recently purchased and installed a convertible top on a customer's mid-90's Ford Mustang. His was ragged and desperately needed new canvas and a window assembly. But because of a tight budget, he couldn't spring for a traditional OEM top. So instead, I suggested one of Auto Tops Inc's new economy tops – and was pleasantly surprised by how easy it was to install and how great it looked.
An economy top is an innovative alternative to the standard OEM convertible top. In this case, I ordered a 1994 – 2004 Ford Mustang economy top. Essentially, it's a one-piece canvas roof with a heat-sealed clear vinyl curtain, much like an early-model Mazda Miata top. Not having to install a window assembly before the top cuts installation time in half. But the biggest time saving feature is that no staples are required to attach the top to the rear tack bar. Instead, the top is precision cut, fitted directly over the mounting studs, and fastened by using the tack bow as a large bolt-on washer (again, like the Mazda Miata). Otherwise, the top installs exactly like an OEM Mustang top.
Never having installed one of these tops before, I was initially concerned with how it would turn out. However, I was pleasantly surprised by how easy it was to install, as well as its exact fit. Best of all, the cost of the top is unbeatable (about $200) and it's even offered in all factory sailcloth colors. (It's now also available for 1996 – 2006 Chrysler Sebring.)
Skeptics will say that nothing can replace an OEM top. I agree, but this top isn't meant to replace the factory top. Instead, it's designed to be an affordable alternative for customers operating on a tight budget.
The ability to offer alternatives and pass on savings to customers is definitely a plus. It'll keep customers coming back and our trip shops thriving for years to come.
— — —
The Hog Ring is the #1 online community for auto upholstery professionals and enthusiasts. Here you can browse pictures, read news and connect with others who share your passion for auto upholstery