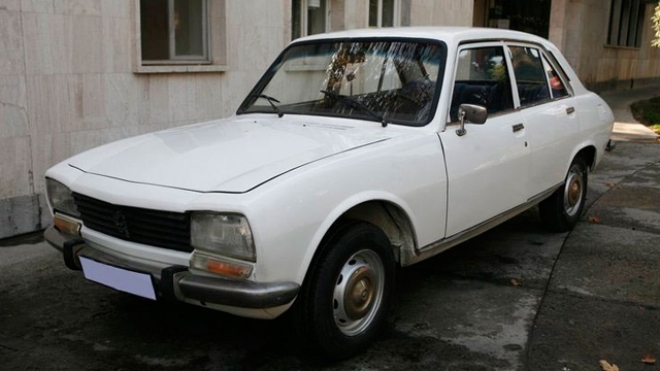 If you're one of those auto trimmers who thinks he can tell a lot about his customers by what their cars' upholstery looks like, I'd love to hear your thoughts on Iranian President Mahmoud Ahmadinejad's 1977 Peugeot 504.
Recently auctioned for $2.5 million, this white clunker features such luxury amenities as ill-fitting purple seat covers, flair on its rearview mirror and a theft-proof, removable-face stereo. Definitely worth every penny…
While the car's street value is roughly $2,000 in Iran, it sold for millions more because Ahmadinejad owned it prior to his election as president in 2005 – back when he was mayor of Tehran, Iran's capital. The anonymous Iranian company, which placed the winning bid, plans to house Ahmadinejad's wild ride in a museum. Meanwhile, proceeds from the auction have been earmarked for low-income housing in Iran.
That's all well and good, and there's nothing unusual about auctioning items that once belonged to famous people for charity. In the United States, we've seen it done for people as far ranging as Marilyn Monroe to Adolf Hitler. What strikes me as odd (and quite hysterical), though, is Ahmadinejad's choice of purple seat covers.
Really? Purple? For an über-serious politician who's a rabid anti-Semite, Holocaust denier and homophobe, purple is an odd choice – don't you think? Black on black or perhaps even something with dark gray piping would have been more appropriate. After all, he is the president of a country, which according to G.W. Bush, sits atop the world's "Axis of Evil."
It makes me wonder what kind of upholstery Libyan dictator and world renowned loony-toon Muammar Gaddafi has in his car. Surely some combination of zebra and leopard print…