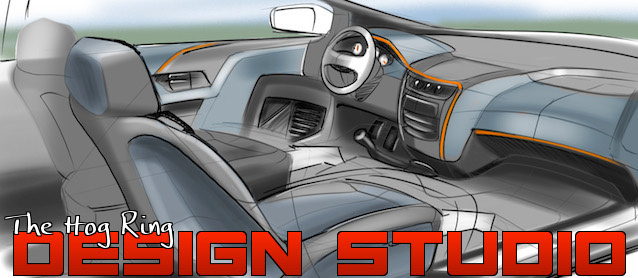 It's no wonder the 1932 Ford Roadster is loved the world over: it's simple, elegant and highly customizable — especially its interior, which we just added to The Hog Ring Design Studio.
Our Design Studio is a growing collection of vehicle interior sketches that lack color and detail, but provide a solid foundation for you to experiment on top of with various color schemes and stitch patterns.
The sketch we added this month shows a 3/4-angle view of the '32 Ford's cabin and trunk. The seat, door panel and trunk walls are all visible and awaiting your customizations.
With the iconic '32 Ford Roadster now part of our studio, you and your customers can swap design ideas hassle free. Simply print out a few copies and bring them, along with a box of color pencils, to your next design consultation.
Remember to use the title block in the right corner to note material and color choices, as well as to have your customer sign off on the final design.
Visit our Design Studio to download, print and use the renderings free of charge — and look out for next month's additions!