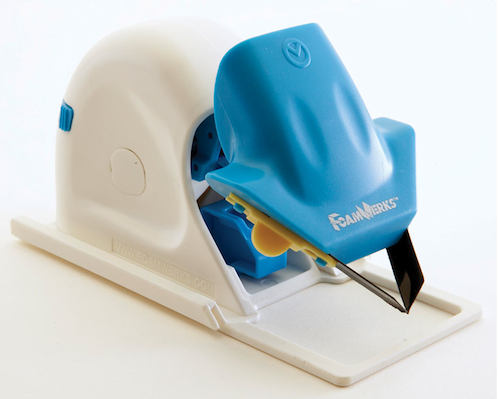 As an auto trimmer, I'm always looking for new tools that will help me complete my projects faster, easier and more effectively. While some of the tools I find aren't necessarily designed for auto trim, they lend themselves to the craft very well. Case in point: Foamwerks tools, made by Logan Graphic Products, are developed for architects, but perfect for designing vehicle door panels.
Foamwerks are foamboard cutting and modeling tools. They're typically used by architects and artists to construct foamboard models, but auto trimmers will find them especially useful for designing custom panels with high density closed cell foam.
Take, for example, the V-Groove cutter. With its two razor-sharp blades tilted toward each other at 45-degree angles, it can slice through up to ½" foam like butter, leaving you with a perfect v-groove in your foam.
The following video shows the Foamwerks V-Groove cutter in action:
But that's not all! Attach the cutter to the straight-edge channel rail and you'll be confident that your cut is completely straight.
Also check out the 45-degree bevel cutter and other tools in the Foamwerks line – such as the freestyle blade and circle cutter.
Executing designs on door panels has never been easier. Best of all, Foamwerks tools are inexpensive – averaging about $20 each.
Take it from me, any auto trimmer who's serious about designing custom door panels needs a set of versatile cutters like these in his collection. Check out the full line on Foamwerks' website.
We want to hear from you: What tools do you use in your shop that aren't specifically made for auto upholstery, but still help you get the job done?