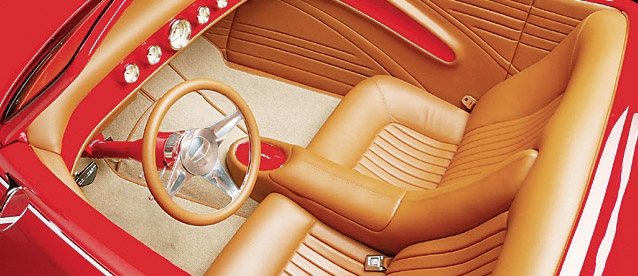 Furniture upholsterers interested in taking on more auto trim jobs or making a complete transition into the field of auto upholstery should check out Upholstery Journal's latest article "Custom Automotive Upholstery".  It serves as a good introduction into the world of cars.
Those not considering the transition may want to think twice. Upholstery Journal explains:
Furniture reupholstery has taken a hit thanks to the influx of less-expensive—and, dare we say, lesser quality—furniture. It's cheaper for those who either don't know any better or just don't care about quality issues to buy a new sofa rather than have an old one reupholstered. Al Berndt of Rapids Upholstery in Sauk Rapids, Minn., calls it "a throw-away world." Fortunately, that's not the case with automobiles, especially with those old cars and trucks that recapture the essence of youth—even for some senior citizens. [more]
Admittedly, UJ's article over simplifies the jump from furniture to automotive upholstery. While some of the fundamentals are the same, many of the processes and design objectives aren't. What's more, their target customers are different and unique.
Still, the transition is doable – and many upholsterers often dabble in both.
We want to hear from you: Have you made the transition from furniture upholstery to auto trim, or does your business handle both? What similarities or differences have you found – from either a design or business perspective?
— — —
The Hog Ring is the #1 online community for auto upholstery professionals and enthusiasts. Here you can browse pictures, read news and connect with others who share your passion for auto upholstery. You can even check us out on Facebook and Twitter!