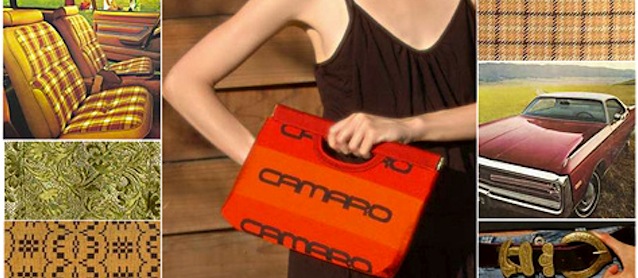 Not that I have a penchant for handbags, but if I did – I'd probably buy one from Kim White. Her company, Kim White Handbags, specializes in purses and clutches made from vintage automotive fabric.
A bit odd, I admit. But a unique gift idea to give to that special lady helping you run your auto trim shop.
Kim White's website explains:
Each Kim White Handbag is tagged with the year and make of the fabric, so you know exactly what car your bag comes from (i.e. 1983 Camaro or a 1978 Ford Mustang). Kim White Handbags specializes in automotive fabrics from the 1970's and 1980's, when color was de rigueur in the automotive industry.
Since these textiles were originally intended for use in cars, they are incredibly durable. Perfect for handbags in style as well as function. Kim White Handbags, in keeping with the tradition of the American car industry, are sophisticated, beautiful and built to last. And just like American automobiles, they have a widespread appeal, from trendy teens to stylish grandmothers and every woman in between.
Unlike Platinum Dirt, which specializes in leather jackets made from old seat covers; and David Clark Designs, which makes home furniture out of actual car seats, the fabrics used in Kim White's bags aren't recycled from classic cars.
Kim White uses dead stock never-used textiles intended for use in American automobiles: cars, trucks and vans. She fortuitously unearthed an entire warehouse of automotive fabric, which may be the last existing stock anywhere in the US, and she is the sole owner of these amazing textiles.
If that sucks a bit of the nostalgia out of the bags for you, check out Mari Cla Ro – a Canadian design firm that fashions women's handbags out of reclaimed leather from high-end cars, like Mercedes-Benz, Jaguar and BMW. Mari Cla Ro also makes items for men out of old car upholstery – like messenger bags, lap top cases, wallets and belts.
So why am I bothering to post an article about purses? I'm excited that artists and design firms are finding new and creative ways to use auto upholstery. Aside from the inspiration it provides, it also draws loads of attention to the beauty of car interiors.
Checkout Kim White Handbags.
— — —
The Hog Ring is the #1 online community for auto upholstery professionals and enthusiasts. Here you can browse pictures, read news and connect with others who share your passion for auto upholstery. You can even check us out on Facebook and Twitter!