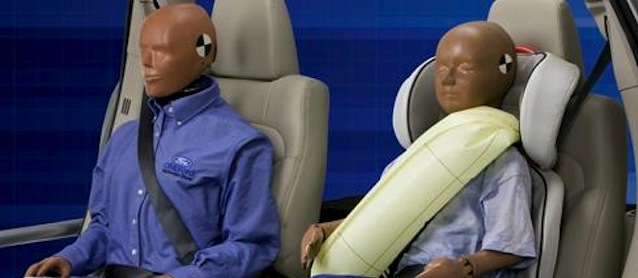 To be successful in the field of auto upholstery, we have to keep pace with the constant innovations car manufacturers make to their vehicle interiors. One of those innovations is the placement of safety air bags.
Most of us already have experience working with seat, headliner, dashboard and steering wheel air bags. But since last year, Ford has been sewing them into back-seat safety belts. Now, other automakers are following suit.
What are back-seat safety-belt air bags? According to USA Today, they're like traditional air bags, but "sewn inside special safety belts and pop out into sausage-shaped tubes in a crash".
They work like this:
The air bags, which were in development for over 10 years before debuting as an option on the 2011 Ford Explorer, are quickly becoming popular.
In addition to the Mercedes-Benz S-Class and Lexus LFA, which already employ seat-belt air bags, the 2013 Ford Flex and 2013 Lincoln MKT will also come equipped with the safety feature.
What's more, the aviation industry has taken automakers' lead and started incorporating seat-belt air bags into their cockpits.
Have your say: It's only a matter of time before customers come to our shops asking for us to replaced deployed seat-belt air bags. How will you prepare your shop and employees to handle this latest innovation?