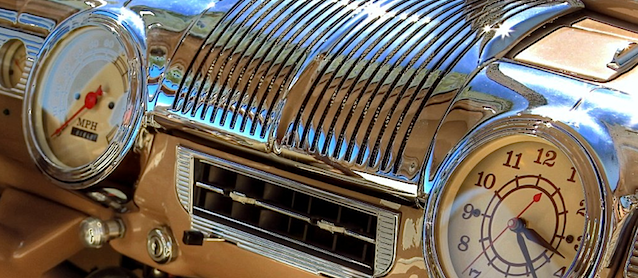 Leather and chrome have adorned car interiors for nearly a century. For good reason too – the combination looks great. In recent years, however, automakers looking to cut costs have swapped chrome accents with bland plastic substitutes. Remember when the dials on car radios were chrome? Now they're plain black. What a shame!
If you're working on an interior that you'd like to spruce up with chrome, you're in luck. Advancements in technology allow for nearly any material's surface – including plastic – to be chromed. Below are six ways you can transform interior plastics to chrome. Some you'll need to hire a professional to do, while others you can do yourself.
Services You Have to Send Parts Out For
1. Plastic chrome plating
The process of chrome-plating plastic is similar to that of metal. The surface of the plastic piece is coated in copper and nickel before chrome is applied. Because flexible plastics are susceptible to stress fractures, this process is only suitable for rigid plastics. For more information, check out Paul's Chrome Plating in Evans City, PA.
2. Vacuum Metalizing
The vacuum method, which is commonly used to make flashlight reflectors, is another great option. Here, plastic parts are washed and given a basecoat before exposed to an aluminum vapor cloud. When the vapor cloud comes in contact with the piece to be coated, it bonds to its surface leaving a chrome-like shine. Companies like Mueller Corporation in East Bridgewater, MA specialize in vacuum metalizing.
3. Spray Chrome
Allowing for virtually any surface to be chromed, this three-layer, water-based process is one of the most exciting breakthroughs in chrome plating. Parts are prepped and sprayed with a black base coat, then coated with a nontoxic chrome formula that applies so smoothly it doesn't run. Lastly, the parts are cleaned with water and clear coated. This video by Jay Leno's Garage shows you just how it's done: Spray-On Chrome.
Chroming You Can Do On Your Own
4. Stretch Chrome Film
Stretch chrome is the latest product in an exciting new line of car-wrap films offered by Alsa Corp. The adhesive backed film stretches in every direction, allowing for curved surfaces to be easily wrapped. Best of all, it's affordable. Stretch chrome retails for $5.99 per square foot.
5. Killer Chrome
Probably the best solution for trim shops, Killer Chrome is a three-step painting process similar to Spray Chrome, but can be done in your own garage with a $129 kit from Alsa Corp. Don't confuse Killer Chrome for the cheap spray cans of the past that advertised a chrome finish, but delivered silver paint. Killer Chrome is the real deal.
6. Mirror Chrome FX Sheeting
Similar to Stretch Chrome, FX sheeting is a peel and stick laminate. However, this product is only intended for flat surfaces – as it does not have any stretch capabilities. The stunning mirror-chrome finish is great for accent pieces  on dashboards, custom consoles and finished trunks. Before you spend $14 per square foot, try Alsa Corp's sample pack – which includes mirror chrome, as well as 11 other finishes like brushed aluminum and burl wood.
OK, so in reality you're not actually transforming plastic into chrome. Rather, you're giving cheap-looking parts a higher-end chrome finish. Sometimes that's good too. These options are to real chrome what gold plating is to alchemy – a feasible and attractive alternative.