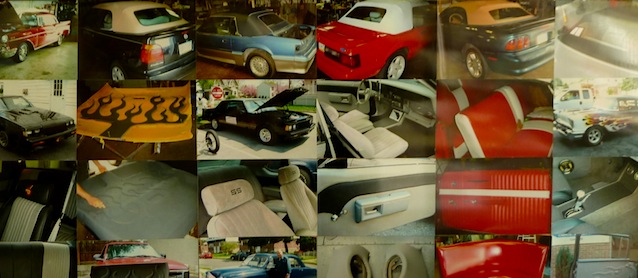 Most auto upholstery shops have front offices that double as waiting rooms. Some of the most successful shops also use these spaces as sales rooms. They do this by hanging promotional materials on their walls that explain the products and services they offer, as well as feature examples of their best work. What these shop owners are doing is putting their walls to work for them – selling their customers on new ideas while they wait.
Below is a list of five promotional items that every auto upholstery shop should hang on its walls. If these aren't already on display in your office/waiting room, hang them up today. They've helped generate more income for my business, and will hopefully do the same for yours.
1. Photographs
Proudly display photographs of your best work. Some shops like to have photo albums, but if you have the space I recommend posting the photos directly on your wall. This way there's no chance that your customers will overlook examples of what you do best.
My customers have dubbed my office the "Wall of Fame" (see photo above). Those with pictures of their vehicles posted carry a sense of pride, as if they were awarded a trophy. Others have requested pictures of their interiors to be taken and hung.
What's more, photographs also work as great visual aids to help you better explain your design ideas to customers.
2. Awards and Recognitions
Nothing establishes credibility and consumer confidence more than awards that your shop has won; positive articles that have been written about it in newspapers and magazines; and thank you cards and testimonials received from satisfied customers.
Hang these items on your office wall. It's nice to feel appreciated, but it's even nicer to parlay that appreciation into sales.
3. Inside signs
Inside signs are silent salespeople that do your job for you.  People may know you fix seats, but have no clue that you also install convertible tops and pickup-truck bed covers. Hang signs around your office listing all of your services and you'll be surprised by how many times you hear: "Oh, I didn't know you do that!"
4. Product displays
Product displays are marketing materials that describe the products you sell and install. These include posters, banners, brochures and product samples. Best of all, they're free – just request them from manufacturers. Companies like Katzkin, Roadwire, Robbins Tops, and Snap E Top Tonneau Covers are happy to ship them to you.
5. Fabric Swatches
No upholstery shop can operate without fabric swatches. The trick, however, is not only use them as tools for yourself, but also to draw in more business.
Display books and sample posters on your walls for customers to browse through and come up with ideas. Being known for your vast selection of materials is great for your reputation.
Just be careful not to overwhelm customers with the many options you offer. Instead, ask them what they're looking for and point them in the right direction – ultimately narrowing the selection.
How about your shop? What sorts of promotional items do you hang on your office walls to help boost sales? Is there anything that you do different than most other shops? Tell us in the comments section below.