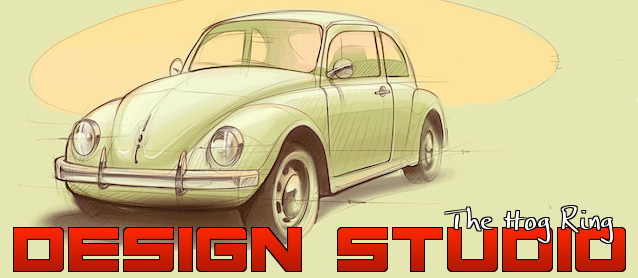 Big news for Volkswagen fans! As per your request, we've added the classic Beetle to The Hog Ring Design Studio.
If you don't already know, The Hog Ring Design Studio is a growing collection of seat and automotive interior sketches that lack color and detail, but provide a solid foundation for you to experiment on top of with various color schemes and stitch patterns. Basically, it's a coloring book for auto upholstery professionals.
Because every trimmer has had the pleasure of working on the iconic VW Beetle, we knew it would be the perfect addition to our Design Studio. Bugs featured a few different styles of low-back and high-back bucket seats, so we added examples of both to the collection. Each drawing shows the seat from a front and 3/4-angle view. A centerline and seams are made visible to help you align your patterns in proportion to the seat.
Print these illustrations and keep them handy at your shop. When a Beetle owner arrives for a consultation or estimate, break out a set of color pencils and use the illustrations to sketch out design ideas. Make note of color swatch numbers and other details in the title box on the bottom right corner. Finally, have your customer sign off on the draft before stapling a copy to his receipt. This will eliminate any future confusion or disputes.
Visit The Hog Ring Design Studio to see our entire collection of illustrations and download them for free. Send us your finished renderings for a chance to have them featured on The Hog Ring!
Also, check back next month when we round out the VW Beetle collection with a new door panel illustration!