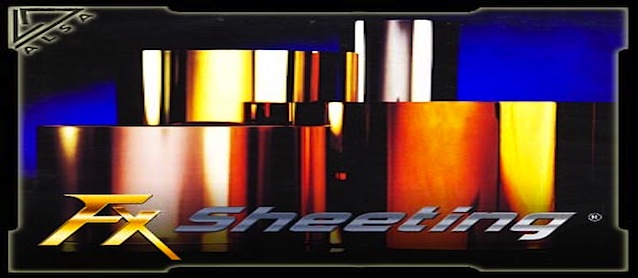 Every now and then I come across a new product that I think has some real practical applications in my shop; and get so excited by the possibilities that I share it with all of you here on The Hog Ring. One of the most recent products I came across was The Alsa Corporation's Soft Feel Paint. Well I stumbled upon another product that's made by the same company: FXSheeting.
FXSheeting can be used to add accent pieces to dashboards, consoles and door panels – transforming a car's interior from bland to beautiful. Of course, you can order a dash kit for most vehicles, but for custom applications FXSheeting seems like a great way to go.
The Alsa Corporation explains:
The result of years of R&D in cooperation with the General Electric Corporation, FXSheeting is the only laminate available in today's market that duplicates both the look and the durability of real metal sheeting. Yet unlike traditional sheets of rigid metal, FXSheeting is simple to work with and does not require special skills or tools to install. In fact, using FXSheeting is similar to laying down common contact paper. All that is required to install this laminate is to simply cut the amount needed to cover the surface, peel off the paper backing to expose the adhesive and then lay it down.
Best of all, FXSheeting is available in 19 different finishes – including brushed aluminum, mirror chrome, brushed copper, mirror copper, diamond plate engine turn, antique brass, mirror black, brushed stainless, burl wood, teak burl, maple, brushed strokes, tarnished, copper, copper canyon, carbon fiber, 3d abalone, 3d mother of pearl and 3d tortoise shell.
To learn more about FXSheeting, check out www.AlsaCorp.com.