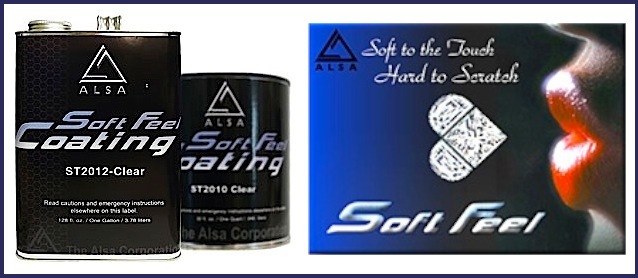 It may have just gotten a little bit easier to upgrade the look of interior plastic moldings. Soft Feel, a new and innovative paint produced by The Alsa Corporation, sprays like any other two-component urethane paint, but dries soft to the touch like fine suede or leather.
Alsa explains:
Soft Feel Paint coating can be ordered clear or with a custom color. So you have the option of just changing the feel of a product's surface or changing its appearance as well. It can be applied as a clear translucent topcoat over a wide variety of substrates and basecoats to produce a lustrous full matte finish.
The paint is sprayed using traditional painting equipment and cures to a "tough as nails" scratch-resistant finish. Alsa even claims the paint will adhere to virtually any surface. Soft Feel is currently being used on high-end automotive interiors, expensive furniture, aviation dashboards and other products.
I haven't yet tried Soft Feel, but am excited by the possibility of transforming the feel of interior plastic moldings without having to wrap them in fabric. It is expensive, though, selling in small and large size kits priced at $179 and $529, respectively.
If you'd like to try Soft Feel at a discounted price, visit Alsa's website and sign up for its mailing list. They often send out email notifications of limited-time offers and sales.
Also, check out The Hog Ring's article:  Is Spray-on Upholstery the Future?