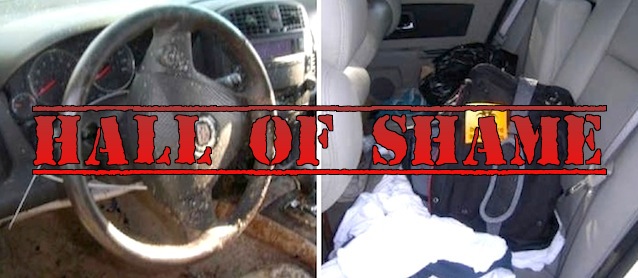 Auto upholsterers have seen their fair share of dirty car interiors. I've heard horror stories of seats covered in deer blood, wet dog hair and even human feces. But the following story of what Florida residents Clifford Ellison and Jerek Evans did in their 2006 Cadillac CTS takes the cake. It's literally a biohazard!
Jalopnik explains:
Clifford Ellison, 36, made sure the used Caddy only went 62 miles under its new ownership before an explosion splattered half-cooked meth juice and a bunch of his own blood all over the interior. […]
Ellison, along with 26-year-old Jerek Evans, had been cooking methamphetamine in this extremely mobile mobile lab using a method called "shake and bake" involving a few choice chemicals and an old liquor bottle. Pilot and copilot were shaking and baking, and driving, when something went awry and the brew exploded, sending shards of glassware flying. Apparently, one of the sharp pieces of glass hit the alchemist-driver in his neck, nicking a high pressure carotid artery. He bled to death, adding rust colored blood stains to the rest of that spewed mess visible in Insurance Auto Auctions' official photo gallery of the CTS.
Strangely enough, the car has not been destroyed. At the time Jalopnik published the story, the CTS was awaiting auction. In other words, some unfortunate auto upholsterer would eventually need to carry out a full restoration of its meth- and blood-covered interior.
Right now, the car — along with the crusty remnants of meth and blood from the explosion — is baking beneath the Florida sun at IAA's Tampa branch. It's waiting for a dealer-licensed buyer to purchase it and its rebuildable title and put the car back into circulation. IAA estimated the Caddy's repair costs to be nearly $10,000. That means that even if someone does pick it up for NADA's rough shape guideline price of $10,675, the buyer would have to spend a pretty good chunk of money to make the thing road worthy. But with such a skeleton in its closet title-wise, good luck getting anywhere close to the $17,000 NADA says is reasonable for a 2006 CTS with a clean title and no defects. [more]
Personally, you couldn't pay me $17,000 to take the car. It's probably swarming in vile and disease. Studies have shown that regular car interiors are filthier than public toilets – so I can't even imagine what to compare this CTS to.
It does, however, raise an interesting question: What's the most disgusting car interior you've ever worked on?