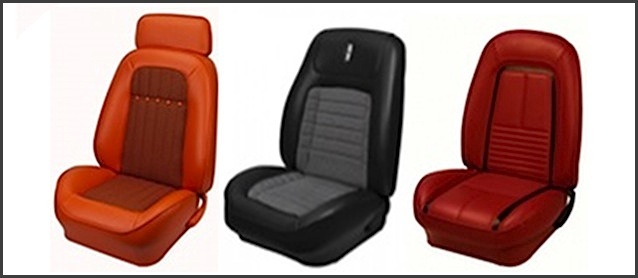 Check this out: TMI Products offers sport-seat packages for early-model Camaros and Chevelles. The redesigned foam has higher bolsters for a sportier look and feel, yet utilizes the factory seat frame – so no more rigging up donor seats' tracks to your floorboards.
Foam cushions can be purchased alone if you plan to design your own custom upholstery. If not, TMI offers seat upholstery for the reshaped buns in OE colors and patterns.
The result is period-correct interiors with a modern twist. Personally, I love it. Especially the '69 Camaro houndstooth seats. Automakers have been bringing back 60's and 70's era muscle cars – like the Camaro, Mustang, Charger and Challenger – for some time. I'm excited to see the upholstery industry finally following suit.
To see TMI Products' full line of sport seats, visit their website: www.TMIProducts.com.