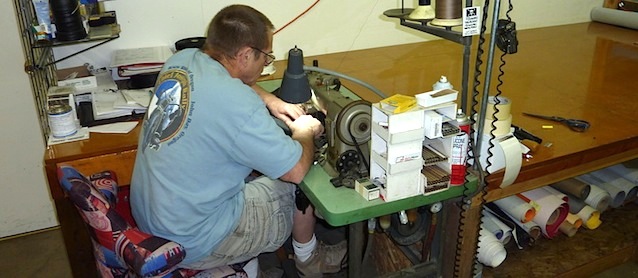 How often does this happen to you? A customer brings his project car to your auto upholstery shop wanting a full interior restoration, but has blown most of his budget on the body, paint and mechanics. Now, he wants to spend as little as possible for a showroom-quality interior.
Sadly, it often seems that professional auto upholsterers are under-appreciated and under-valued. Ironically, though, car owners spend more time sitting inside the cabins than staring at their vehicles parked in the streets.
Case in point: Joe Jordan, a resident of the U.S. island of Guam, has been winning awards left and right for his overhauled 2004 Nissan 350Z. He attributes the car's success in part to its beautiful interior, but can't remember the full name of the shop or upholsterer responsible for the work. Of course he has no problem recalling the names of the shops that did the body and tuning.
The Guam Pacific Daily News reports:
The three people he gives credit to the most for the repairs include Ryan Sulla, from RJ's Auto; Chris Delfino, from Car Audio Image; and a man he knows only as Ryan, from an upholstery repair shop behind Kmart.
"All credit goes to them," Jordan says. "I never expected to win a car show. It was beyond a dream but I never planned for that. It was really how good their job was and the people who told me how good of a job they do is how I won the car show. It was a combined effort for them."
On the inside, the Z's tan, worn upholstery got an overhaul by Ryan, a low-key upholstery guy who doesn't even have a credit card machine — or even a last name that Jordan could recall. [more]
I don't know whether to laugh or smash the computer screen. An award-winning car has the power to dramatically boost an upholstery shop's business – but not if the car's owner can't remember the name of the shop where he got the work done.
I'm not saying that the owners of award-winning cars have a duty to promote the shops where they had their work done. But when they can't recall the name, it feels like a cold, hard smack in the face.
What do you think? Is auto upholstery an under-appreciated craft?