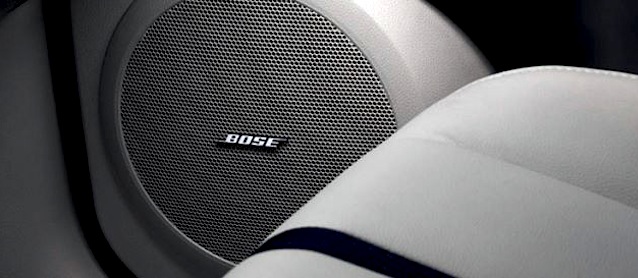 Hot cars and good music go hand-in-hand, so it's not surprising that auto upholstery shops often take the placement of sound technology into consideration when custom fabricating interiors – especially trunks, consoles and door panels. Often, the aim is to enhance sound quality. But if Bose has its way, we'll soon be designing interiors around technology developed to stamp-out noise as well.
It's the next generation of soundproofing – and it's a lot more complicated than glueing down noise-cancelling materials and fabrics. MSN Autos explains:
Noise cancellation , a feature Bose helped to pioneer for commercial pilots in the late 1980s, is now entering the car interior. … The idea is to place microphones throughout the cabin, listen for offending frequencies and then play back those unwanted sounds – inverted – through the stereo speakers. […]
[A]ctive noise cancellation looks to be the easiest shortcut to improve NVH (industry-speak for noise, vibration and harshness). It'll become a cheaper way to develop quieter, potentially more fuel-efficient cars — sound-deadening material and acoustic glass add considerable weight and cost — that can be added at any point in development without requiring a total redesign. Plus, as more automakers shift to direct injection (a noisier, high-pressure fuel line), auto start/stop (which tends to cause low-frequency shuddering) and even diesel engines (which clatter at idle), noise cancellation will be sorely needed.
Interestingly, the system can also be engineered to work in reverse – letting in sounds (both real and fake).
Bose has also been treading — very cautiously, after the controversial music of the new BMW M5 — with "sound enhancement," which is essentially noise cancellation in reverse. In the M5, BMW found its interior too insulated and the twin turbos so muffling that a recording of the engine's exterior sound plays through the stereo, synced with actual revs. Other automakers must be watching BMW's experiment, too. So far, Bose says it has no takers for this system. […]
Then again, trusty, old-fashioned piping seems to do the trick quite well. Porsche built a "sound symposer" for the new 911, which channels engine music through the interior with an actual pipe connected to the intakes. Electronically controlled muffler baffles, organ-style vents that open the exhaust pipes at higher revs, expel glorious noise like on the Corvette. Or, you can enjoy the resonator pipe Ford built into the Mustang GT. [more]
Granted, most auto upholstery shops don't sell or install sound technology. But as the various elements of vehicles interiors become more interconnected, we may see our craft merge with others. After all, soundproofing is something that every custom fabricator must take into consideration before executing a build.