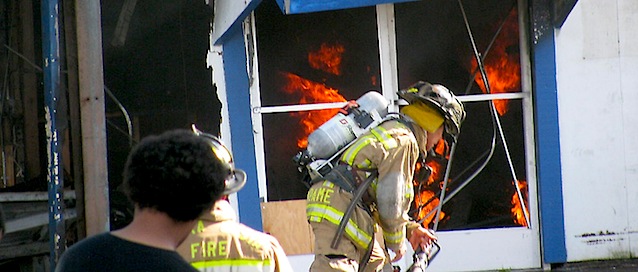 Antioch Convertibles and Auto Upholstery of Pittsburgh, PA was reduced to ashes on Tuesday after a four-alarm fire broke in a neighboring garage, leaving two employees injured, numerous businesses ruined and scores of classic cars gutted.
According to reports, the fire was started when an employee of a neighboring tire shop ignited fireworks near two employees who were using a mixture of tar and gasoline to shine old tires.
Mercury News reports:
Two men suffered minor injuries in the blaze, although neither injured man was hospitalized, said Contra Costa Fire Protection District Capt. Robert Marshall. One man drove himself away from the scene with burns on his arms, and another man was treated at the scene for an unspecified injury.
Oakley resident Justin Keusch, who surveyed the wreckage, estimated that the fire may have caused hundreds of thousands of dollars in damage after scores of classic cars burned.
"This is horrendous," Keusch, 36, said of the damage to a business that refurbished such classic cars as old T-birds and Camaros.
"There are countless hours in those automobiles that got burned," he said. "People think it takes a week to make these classics, because they're used to seeing those (television) shows on them. In real life, to make something perfect, it takes a lot of time, a lot of care and money and tools." [more]
The fire raged out of control for nearly three hours – exasperated by a lack of fire hydrants and the large number of flammables kept in the garages. Reports state that it took 20 fire crews to subdue the flames.
Protect Your Shop
Our thoughts and prayers go out to all those left affected by this disaster. We hope that you rebuild and come back stronger than before.
Situations like this are always tough. As shop owners, we take steps to fire-proof our businesses, but there's always a chance that one will break out. The glue, cleaners and other toxins we stock only add to the worry.
That is why it is absolutely necessary that we regularly review our insurance policies to make certain that they cover the value of our buildings, products, tools and customers' cars.
If you haven't already, read "Guarding Your Shop From Natural Disasters". It provides some helpful advice on how to limit your losses in the event of a fire.