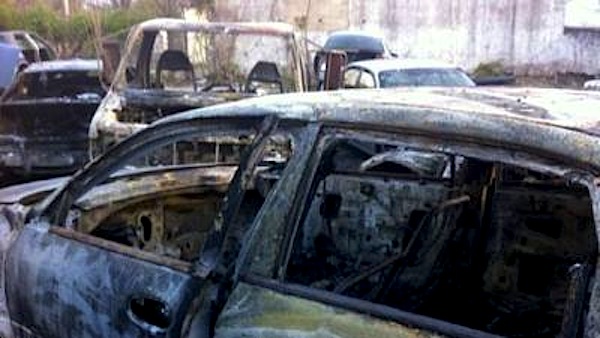 E&P Upholstery & Body Shop of Memphis, Tennessee was the target of arson this weekend, when a lowlife intentionally set fire to 12 vehicles in the shop's parking lot.
According to local news program, WREG Channel 3 News:
Surveillance video shows the person who did this first threw gasoline under a garage door and tried to set the building on fire. When he was unsuccessful he doused the vehicles outside with gasoline, lit a rag or piece of paper and set them on fire.
All 12 vehicles were gutted out by the flames. However, the damage could have been a lot worse – as the shop did not have a working fire detector. Fortunately, though, no one was hurt. While Memphis police are still investigating the crime, Fred Jones – the shop's owner – says that it's possible a disgruntled customer is to blame.
Our thoughts and prayers are with Fred Jones, his team at E&P Upholstery & Body Shop and all the customers who lost their rides.
Don't let something like this happen to you…
Make  sure that the batteries in your shop's fire detectors work
Install the best security system you can afford
And never skimp on insurance policy coverage