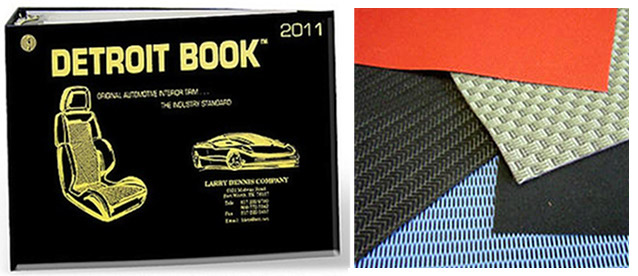 One of the questions that we often hear auto trimmers ask is: "Why are Detroit Books so hard to find?" Seeing as upholstery shops need them to order original automotive fabrics and suppliers rely on them to market their goods, it seems almost counter intuitive that they're not so readily available.
We decided to contact Detroit Body Products, which publishes the Detroit Book, as well as De Leo Textiles, which produced the comparable "Lion Book" up until 2009, to get to the bottom of this issue.
Why is it so hard to find Detroit Books?
Detroit Body Products publishes a new Detroit Book every year. However, they're so expensive to make that not a lot of extras are produced.  The company publishes a set number of books based on demand figures received from suppliers like Miami Corporation, DLT Upholstery Supply, Three Rivers Supply and Lindsey & Hall. Detroit Body Products then distributes these books to suppliers, who in turn brand them with their company's contact information and sell them to auto upholstery shops.
Detroit Body Products does not sell directly to auto upholstery shops. Nor does it reproduce old books. According to the representative we spoke to at Detroit Body Products, there's not enough demand to warrant bulk reproductions and single reproductions are just too costly.
So how can I get my hands on an old set?
There are two ways to acquire a set of Detroit Books – neither of which is ideal.
The first is to wait for an old auto trimmer to retire or pass away and buy them from him or his descendents. But in a fairly disconnected trade like ours, it's difficult to know who is about to retire. The Hog Ring, however, aims to change all that by connecting trimmers in a way never done before. (Check out our auto upholstery forum!)
The second is to piece together a collection from a variety of sources. Representatives at both Detroit Body Products and De Leo Textiles advised us to cold call suppliers – as they may have a book or two lying around collecting dust. They also advised us to contact upholstery shops, as you never know what you might find. Some may have doubles or specific-year books they hardly use.
However, be prepared to pay a hefty price. Books can run as high as $150 each. So a set from 1990 to 2010 is easily a $3,000 investment.
What do I have to do to build a new set?
To receive a new book and start building your collection from the current year onward, simply contact a supplier and ask to be put on its Detroit Book list. The supplier will include your shop in the figure it reports to Detroit Body Products and a book will be produced for you.
The De Leo representative that we spoke with advised us to submit our book request to the supplier that we do the most business with. According to him, suppliers will place a higher priority on reserving a book for shops they view as regular customers. Infrequent customers, on the other hand, are given lower priority.
He also advised us to submit our book requests before the Spring of each year – as that's when Detroit Body Products gears up to sell its new book for the upcoming year.
Tips / Advice? If you have any tips or advice on how to acquire a set of Detroit Books, please let us know in the comments section below. Also, feel free to use our auto upholstery forum to let other auto upholstery shops know if you're in the market to buy or sell.