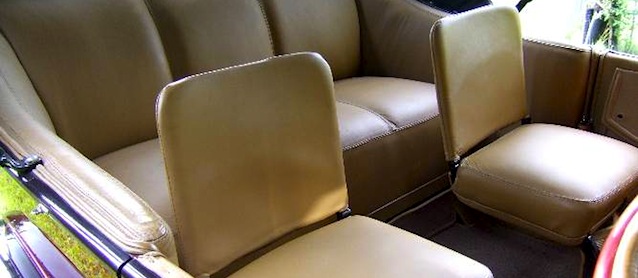 For better or worse, auto upholstery – like clothing fashion – passes through trends. Just as bell-bottom jeans came and went, so did mohair velvet, full-on tweed interiors and roadster tops. Sooner or later, faux ostrich and alligator will also be regulated to the back pages of automotive history.
It is, however, interesting and oftentimes helpful to look back on these trends. Doing so helps us understand where today's automotive styling comes from; and allows us to be more accurate in our restoration and design of era-specific cars.
Recently, while looking back, I came across an interesting article about auto upholstery that was published in a 1920 edition of Vogue Magazine.
The piece, titled "Upholstery in the Best American Luxury Cars of the 1920s" had a lot to say about what is and isn't in good taste when it comes to auto upholstery – some of which I've posted below:
Interiors of the new cars range from gorgeous to plain, with a slight leaning toward the latter. Good taste will always be the criterion by which smart cars are judged. This priceless characteristic may be variously displayed in selecting colours and materials for the new motor, and it is not at all necessary to sacrifice either beauty or originality in order to obtain the desired result. Therefore, nobody with that sense of the fitness of things which pays due heed to good form will go to such ostentatious extremes in motor equipment as the plumbing of gold plate, and silk tapestried seats that fold out to form beds, which are found in one extreme new model.
Had automobiles been invented when Aladdin flourished through the streets of ancient Bagdad, doubtless the costly trifles which equip some costly cars, – such as vanity-cases, clocks, door-handles, hinges, electric fans, light-holders, smoking-sets, fountain pens, all of gold and studded with diamonds and bearing platinum monograms, – would have been suitable appurtenances for the possessor of a magic lamp. In modern New York, however, such exaggerated elaboration must savour of bad taste. [more]
The writing is a bit dense, but the author is basically saying that car interiors that feature too many frills – like clocks and vanity mirrors – are in bad taste. Given what comes standard in today's interiors, somebody must be rolling over in his grave.