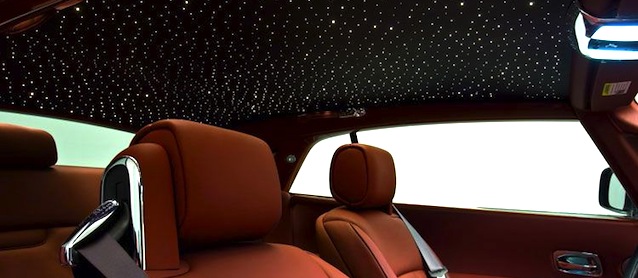 At the WardsAuto Interiors Conference held last weekend, industry leaders hinted that automakers may soon forgo dome lights in favor of multiple LED lamps – a possible precursor to LED-laden headliner boards like that found in the Rolls Royce Phantom.
The Detroit Free Press reports:
Automakers who are dabbling in ambient lighting are preparing to dive into greater use of LED technology as a way to both create a distinctive brand identity inside the vehicle and to meet customer demand, according to automotive suppliers at the WardsAuto Interiors Conference in Dearborn.
In recent years, automakers have begun to embrace the use of ambient lighting around cup holders and in the dashboard as the cost of the technology has declined. […]
"It's in its infancy," said Rick Comiskey, senior account manager for OPTIS North America. "In the future, it will become much more brand-focused."
Comiskey said some automakers are even considering sconces in the headliners of cars that can be adjusted to customized colors and lighting levels instead of the standard, single light in the center of a headliner. [more]
Sconces, which are more or less protruding lamps, should not have a drastic effect on the headliner boards we work with every day. However, as the technology becomes increasingly more affordable, automakers are expected to recess LED lighting into the boards themselves – similar to how Rolls Royce fabricated its infamous Phantom "starlight" headliner.
Those familiar with the Phantom's headliner know that it creates the illusion of a night sky using a combination of fiber optic and LED technology. It's perforated headliner board features up to 800, individually hand-fixed "stars" that can be adjusted to shine from a dim glow to an intense light powerful enough to read under.
If LED-laden headliner boards are to become the norm, the reliable quick buck that many auto upholstery shops make by replacing sagging fabric may soon be over – as the job will, undoubtedly, become more complicated.