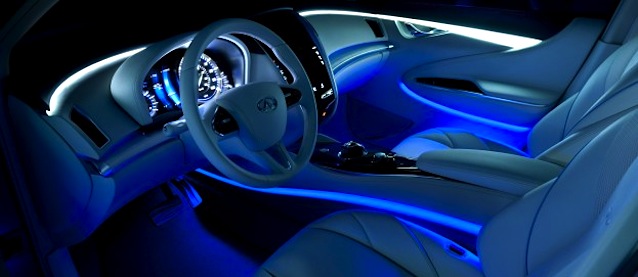 According to a recent study, ambient LED lighting will significantly alter the look and feel of car interiors within the next few years – a trend that will affect the work of auto trim shops.
Researchers at Hamburg University in Germany and HELLA, a leading global supplier of automotive lighting, found that specific shades of ambient lighting placed throughout a vehicle's cabin can affect the general mood and perceived comfort level of passengers.
The findings of this study and similar others have sparked increased interest among automakers in LED technology. Many hope to use ambient lighting's mood-altering effects to strengthen brand awareness and improve customer satisfaction.
So many automakers are currently experimenting with LED technology that HELLA believes 12 percent of all vehicles in North and South America will come equipped with LED lighting by 2016. A press release issued by the automotive lighting company states:
Lighting is not a significant factor in the design of most passenger-car and commercial-vehicle interiors today, but HELLA predicts that the use of ambient LED lighting in North America will more than quadruple over the next five years.
"LED lighting technology provides designers with another important way to add value and improve the overall driving experience," the HELLA executive [Dr. Herbert Wambsganss] pointed out. "It's a key new ingredient in the interior design equation." […]
HELLA's RGB/LIN technology achieves exact color and intensity control with HELLA's proprietary LED module calibration, promoting perfect harmony throughout a vehicle's interior. In addition, the company's technology allows designers to place unique colors at specific locations throughout a car's interior to further extend brand-design themes.
Specific LED interior lighting applications offered by HELLA include multi-color LED modules, RGB/LIN control with color-control, fabric backlighting that highlights patterns contained within cloth construction, LED overhead consoles and slim-line LED interior lighting. [more]
In other words, HELLA is positioning itself to sell LED technology to automakers interested in lighting everything from cup holders and consoles to door panels and fabrics.
If the trend catches on as HELLA predicts, auto trim shops can expect to begin handling the technology – if not to incorporate it in custom designs, then to repair interior elements already wired for it.
I, fore one, am excited by the emerging trend. I just hope that automakers and tuners don't go overboard with the technology. When it comes to interior lighting, less is more. Otherwise, we might find ourselves driving around in glowing alien orbs.