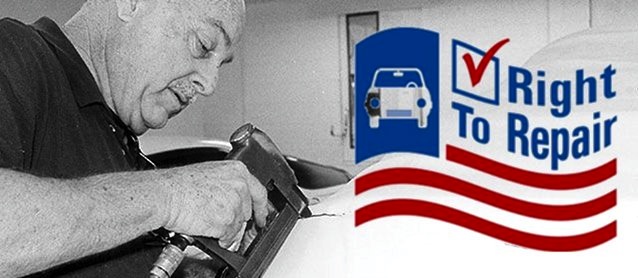 A recent study has found that American auto repair shops turn away 1.8 million customers and lose $5.8 billion in sales each year because they do not have access to the same technical data and service information that automakers provide to dealerships.
By joining the Right to Repair Coalition – which aims to pass the Motor Vehicle Owners' Right to Repair Act – you can help change that.
The coalition explains:
Today's modern vehicles are very complex machines. Computers and electronics control nearly every vehicle function from safety and emissions to ignition keys. Although these computers provide many benefits to motorists through improved fuel efficiency, comfort and safety, they also provide increasing opportunities for car companies to lock out access by car owners and the independent repair shops where they choose to obtain service for their vehicles.
The need for Right to Repair legislation has become a necessity in order to protect the rights of car owners to decide where and how they have their vehicles serviced, whether at a new car dealer or an independent service facility. Right to Repair ensures that the person who bought the car and not the car company, can decide where that vehicle is repaired and maintained.
Right to Repair faces adamant opposition by the Alliance of Automobile Manufacturers (AAM) and Association of International Automobile Manufacturers (AIAM). Both of which argue that the information needed to repair new vehicles can be obtained via OEM service websites. These sites, however, charge for access – with annual fees ranging from $350 to over $7,000.
Proponents of the Right to Repair Act say that these costs force independent repair shops to raise their prices – which limits their ability to compete with dealerships. The high costs, in turn, prevent cash-strapped car owners from making up their own minds about where they'd like to have their vehicles serviced.
There's also a fear among those lobbying for Right to Repair that automakers may take down the OEM service websites at any time. After all, there is currently no law requiring them to make the information public.
The European Union has already passed Right to Repair, and an aggressive campaign is currently underway in Canada. However, since the bill was first introduced to the United States Senate and House of Representatives over a decade ago, no version has been passed.
You can take action by joining the Right to Repair Coalition.