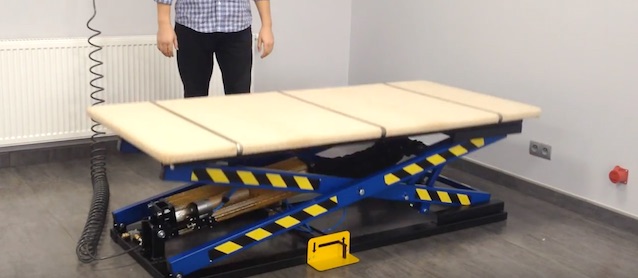 This is the first in a new series of articles titled "Dream Garage," where we'll showcase badass tools and equipment that every auto trimmer would love to own.
To kick off the series, check out the Rexel ST-3/K pneumatic-lifting table. It's the ultimate workstation and back saver. With a height-positioning system that enables the table to rise from 12.5″ to 50″, you'll never have to strain to lift another bench seat again.
The ST-3/K also features a steel frame and 78.74″ x 35.43″ tabletop. Together, it can handle a maximum payload of 352.74 lbs — which covers just about any project, from a 1960s Cadillac bench to the heaviest modern bucket seat.
Check out the ST-3/K in action:
Other cool features include a foot pedal on both sides of the table for easy use, drawer for tools or removed seat components, connection outputs for air tools, and a safety feature that prevents the table from dropping if it's ever accidentally cut off from its power supply.
With this table in your shop you'll never tweak your back again carrying a heavy and awkwardly shaped seat. Simply unbolt the seat from the car, wheel it over to your Rexel table on a hand truck and raise and lower as you please.
Of course, such convenience doesn't come cheap. The Rexel ST-3/K pneumatic-lifting table runs about $3,400, which is why it's in our "Dream Garage."
To learn more about the ST-3/K, as well as other cool pneumatic tables by Rexel, visit Rexl.com.pl. While there, check out the ST-3/OB, which features a tabletop that rotates 360 degrees! If you're interested in purchasing a Rexel table visit SewnProducts.com.