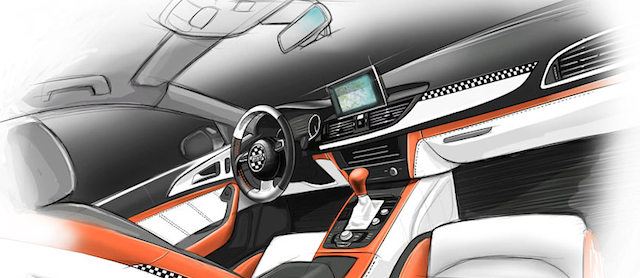 Like artists painting canvas, auto trimmers design car interiors by choosing from a vast palette of colors and textures. However, the combinations we choose – or advice our customers to choose – aren't always easy to explain without reference. That's why I always advice trimmers to use illustrations.
Drawing out your ideas allows for both you and your customers to experiment with colors and patterns before ordering materials or sewing a single stitch. It also helps to ensure that both parties are on the same page when it comes to design, and have similar expectations for the end result.
To get started, all you need is paper, color pencils and some creativity.
Don't worry if you're no Vincent van Gogh. Even the most basic of sketches can help iron out the details of an impending build. After all, the drawing is only going to be used as a reference point, not hung in an art gallery.
Tech savvy trimmers may even want to consider using design software. These range from the very basic and easy to use, like Microsoft Paint, to the very complex, like AutoCAD. However, the most commonly used are CorelDRAW and Adobe Illustrator.
Regardless of whether you choose to illustrate your design ideas by pencil or computer, one thing's for sure – doing so can ultimately save you time and money.
Need inspiration? Check out the following illustrations by Carlex Design: