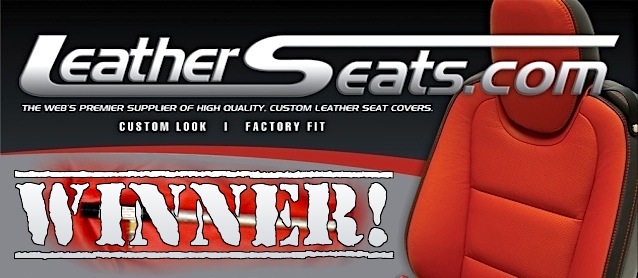 Congratulations to Wade Labofish of Madfish Designs in Annapolis, Maryland for winning The Hog Ring's contest for "Comment of the Week". Wade takes home this week's prize: a pneumatic headrest shrinker courtesy of LeatherSeats.com.
We received lots of great comments this week – many deserving of a prize. For us, however, Wade's stood out for capturing The Hog Ring's true essence.
In response to our interview "10 Questions for Legendary Trimmer Sid Chavers", Wade wrote the following:
I have used Sid's DVD's with great success. Thanks to guys like him showing the tricks of the trade, I have been able to operate my own shop out of my home garage.
I've only been in the biz for 8 years and am having great success doing everything from custom cars, boats and even furniture. Best of all, I can provide for my family while being at home.
So thanks Sid and keep those DVD's coming. We can always learn more.
That's precisely what The Hog Ring is all about – independent trimmers connecting, sharing tricks of the trade and helping each other grow. We hope that experienced upholstery professionals like Sid will continue to share their knowledge; and that rookies will always have resources like his DVD's and this site to go to for a little extra help. Together, we can empower and grow the auto upholstery community – ensuring everyone's success.
Thanks Wade for being an active member of our community, as well as everyone else who followed The Hog Ring this week. Please continue to look out for more great articles, contests and giveaways.
Last, but certainly not least, thank you LeatherSeats.com for donating this week's prize.
LeatherSeats.com is the web's premier supplier of high-quality leather seat covers. While a lot of online retailers sell cheap, loose-fitting slip-ons, LeatherSeats.com custom manufactures covers that fit like factory. Best of all, they go on easy and are available in a wide range of colors and over 1,600 different patterns.
Visit LeatherSeats.com to learn more about the company's full product line. While there, checkout their "special deals" page for value buys. If you're a shop owner, call 1.866.NEW.SEAT to set up a dealer account today!