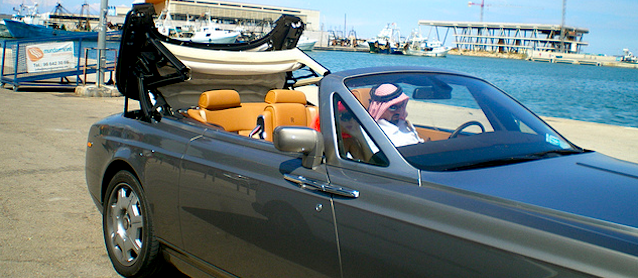 The United Arab Emirates (UAE) is known the world over for its love of everything wild and extravagant – and car interiors are no exception. Local news source 7 Days in Dubai recently published an article highlighting just how over-the-top Emiratees like their cars. The extent to which they demand their interiors stand out will leave you amazed; and quite possibly intrigued to do something about it.
According to 7 Days in Dubai:
Buyers with more time to spare…like nothing more than to bling up their ride – requesting a range of added extras, from alligator skin and gold buttons to hand-embroidered headrests.
Mohammed El Arishy, Rolls-Royce brand manager in Dubai, said: "While in the rest of the world we take orders for the car – here we've taken the risk of just ordering some mix-and-match models because people don't like to wait." […]
Usually, however, buyers take their time and El Arishy said the firm has received some unusual requests.
He said one customer wanted the entire car – inside and out – in yellow, while another wanted a falcon motif in the headrests – a procedure that required 40 hours of embroidery, involving 11 different threads and 21,000 stitches.
El Arishy said: "There have been many demands, and in the Middle East there is a demand for bright colours and what you would call the bling factor."
He added: "It's all about personalisation. Sometimes customers want features that don't exist on any brochure for any car in the world… If it is legal and safe then we will make it happen." […]
Other requests include leopard-print seats, pure gold buttons and neon-coloured interiors and exteriors. [more]
Having spent some time in the Gulf region, I can attest to the locals' affinity for custom interiors. In the UAE – as well as neighboring countries like Qatar, Kuwait and some areas of Saudi Arabia – no one likes to drive stock. Folks have expensive taste and enough money to fuel their cravings, but never seem to be satisfied.
There, owning the latest and greatest custom cruiser is the name of the game; and drivers are constantly trying to one-up each other. In an environment like this, it's not surprising that bespoke programs do so well.
Such customizations, however, are usually carried out by high-end dealerships at the time of purchase. While aftermarket accessory and interior repair shops do exist, their lack of expertise and quality craftsmanship leaves a lot to be desired – especially when compared to the U.S., Europe and Australia.
If you're an auto upholstery professional with the chops to handle high-end cars, consider relocating to the Gulf region. West Coast Customs already has, and they're cleaning up.