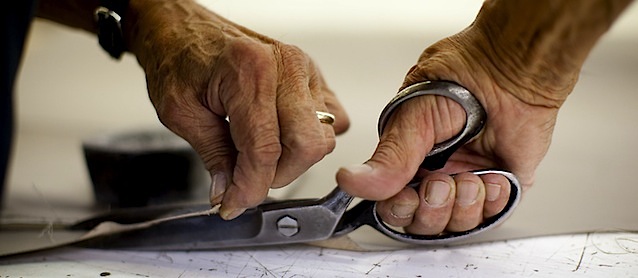 Auto upholstery isn't a uniform industry where all shops look the same, work the same or even charge the same. It's comprised of independent businesses – mostly mom and pop operations – that put in long hours and a lot of hard work to stand out.
While some shops do general repairs, others focus solely on restyling, hot rod interiors or motorcycle seats. Most operate out of garages, but others do just as well being mobile or selling their products online.
All successful shops, however, have one thing in common – they've chosen a niche and serve it well.
In fact, The Hog Ring community features a number of shops that cater to specific niches. These, of course, are based on the type of work each shop's owner or lead trimmer enjoys doing and the types of customers he/she is able to attract.
For the most part, these shops can be placed in one (or more) of the following eight categories:
1. Repair Shops
Interior repair shops are the most common. Trimmers who work here have vast knowledge and experience in repairing nearly all makes and models. These types of shops do a little bit of everything – including headliners, carpets, leather work, custom sewing, classic restoration, fabric tops and much more. Many even dabble in marine, aviation and furniture upholstery.
2. Mobile Repair Shops
Like traditional brick and mortar repair shops, mobile shops do a little bit of everything. The primary difference, however, is that they operate out of a van and do their work onsite. These trimmers can often be seen at used car dealerships and auto repair shops. Some even make house calls. Of course, all their tools and a small inventory of materials must be carted wherever they go.
3. Restyling Shops
Restyling shops mainly cater to new car dealerships. They specialize in cloth to leather conversions, sunroof installations, mobile electronics and other cabin upgrades. Given the nature of their business, trimmers who work here don't do much in the way of repairs, custom sew work or fabrication. Their primary concern is to re-outfit a car's interior and send it on its way.
4. Online Shops
These trimmers make shift boots, door-panel inserts, seat covers and more – selling them online to customers who either install the products themselves or take them to repair shops to have the work done. Those that offer installation services require customers to mail them interior components – like steering wheels – to be trimmed and returned. Given the nature of their business, there is no geographical limit to their customer base.
5. Hot Rod Shops
Hot rod trimmers specialize in designing and building custom interiors for classic show cars. Their work is extremely niche and involves knowledge and experience in several disciplines outside of upholstery – such as carpentry, sheet metal and fiberglass fabrication. These shops tend be low volume, completing a limited number of interiors per year. Established ones usually have long waiting lists, attract customers from afar and charge tens of thousands of dollars per car.
6. Restoration Shops
Restoration shops are like hot rod shops in that they're niche and low volume. However, they don't do much in the way of custom work. Instead, these trimmers focus on restoring vehicle interiors to exact factory specifications. Shops go to great lengths to find, restore or fabricate missing pieces; and spend a lot of their time working on highly exotic and rare automobiles.
7. Custom Shops
These shops focus solely on custom work – churning out show-quality interiors for domestic and import vehicles new or old. These trimmers sew, fabricate and even install mobile electronics. Their work isn't as low volume as hot rod shops, but also not as high volume as repair shops. They float somewhere in the middle, working hard to make their customers' visions a reality.
8. Motorcycle Shops
Many trim shops across the globe only service two wheelers and other motorized bikes – upholstering seats, saddle bags and accessories for motorcycles and scooters. An enthusiastic and dedicated clientele has made motorcycle upholstery a steadily growing market. In addition to pattern making and sewing, the skill set of these trimmers include leather carving (tooling) and braiding.
On a personal note, my business is primarily an upholstery repair shop. I do classic restorations, custom interiors and motorcycle seats as well; but repairs have always been my bread and butter.
When I first started out in the industry and was a bit naïve, I only wanted to upholster show cars. In fact, I was so anxious to work on them, that I'd often charge less than what the work required just to guarantee that I got the job.
As I grew older, however, I began to realize that there just wasn't any money in it. Where my shop is located, customers can't afford to pay the thousands of dollars I need to charge in order to make focusing solely on show cars worth it.
I eventually shifted my attention to repair work, where I'm able to get cars in and out of my garage quickly and turn a more rewarding profit. I still satisfy my craving for custom interiors, but on a limited basis and only for customers willing to pay the true cost of my skills and labor.
But that's just my shop. I'd love to hear about yours…
Tell us: If you're just starting out in this industry, what type of shop do you hope to run? If you're an established trimmer, how would you categorize your shop? Did you choose to create that type of shop or did market constraints choose it for you?