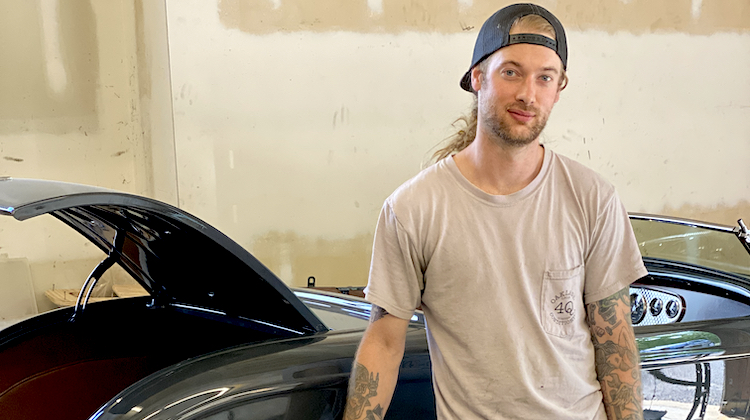 Mitch Woloshchuk had always dreamed of combining his love of art and cars into a career in hot rods, but had never considered upholstery as a way to do it.
That changed after he enrolled in Wyotech, where he studied nearly all aspects of automotive repair. "I didn't know a single thing about upholstery," he recently told The Hog Ring. "I ended up picking it up pretty quickly and before I knew it people were asking me to do upholstery work for them."
After graduating and cutting his teeth for several years at an established and reputable auto upholstery shop in Massachusetts, Mitch opened Mitch's Kustoms in 2018.
In only two years, Mitch's Kustoms has quickly developed a reputation for top-tier craftsmanship and elegant designs, garnering Mitch praise from fellow trimers and the wider hot rod community.
We recently spoke with Mitch about how he got his start, his thoughts on the craft and much more. Let's meet the trimmer…
Name: Mitch Woloshchuk
Shop: Mitch's Kustoms
Location: Monson, Massachusetts
Instagram: Instagram.com/kustomitch
Facebook: Facebook.com/mitchskustoms
Equipment: Highlead GC0618
How long have you been trimming: 8 years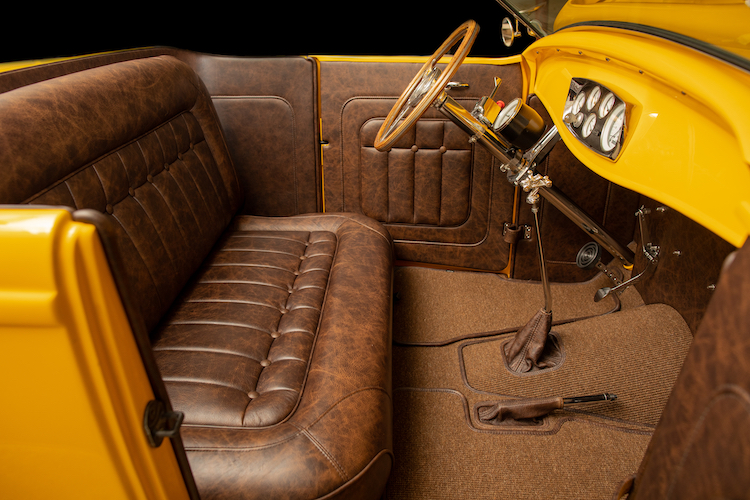 How did you learn auto upholstery?
I've had an interest in classic cars ever since I was a kid. As a traditional artist, doing paintings and drawings ever since I could hold a pencil, I began drawing cars and dreaming about one day being able to build and paint the real things.
In 8th grade, my father and I picked up a 1986 Chevy K10 that had been sitting in a field for years. He helped me restore it through my high school years and I learned quite a bit. After high school, I went to Wyotech in Blairsville, Pennsylvania, for two years wanting to further my automotive education with the goal of opening a hot rod shop one day.
I started with auto tech classes and moved on to custom fabrication and paint, chassis fab, high performance, upholstery and business. I didn't know a single thing about upholstery and learned quite a bit from some great instructors. I ended up picking it up pretty quickly and before I knew it people were asking me to do upholstery work for them.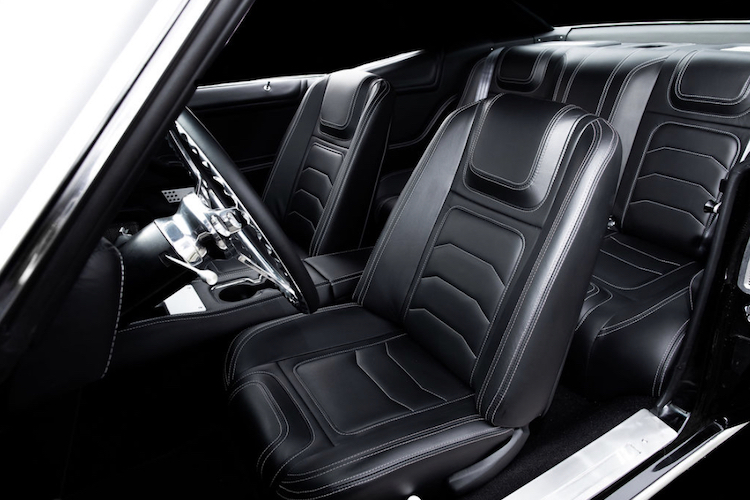 After graduating and moving back home to Massachusetts, a fairly local upholstery shop got in contact with the school looking for an upholsterer. They recommended me and I began my upholstery career at New England Trim, where I stayed for 6 years learning a whole lot more. After seeing examples of some of my work from school they put me right into doing the custom interiors and some repairs too.
While that was certainly a great experience for me, I wanted to further my skills and create things that I design. I went on to open my business, Mitch's Kustoms, in 2018 and it's been the best thing in my life.
What's your favorite aspect of the trade?
My favorite aspect of the trade is being able to sit down with a pencil and paper, draw up a design out of my head, and make it come to life. The fact that I use all the skills I learned at school, not just upholstery, keeps it interesting. Every day and every interior is something different and a whole new experience.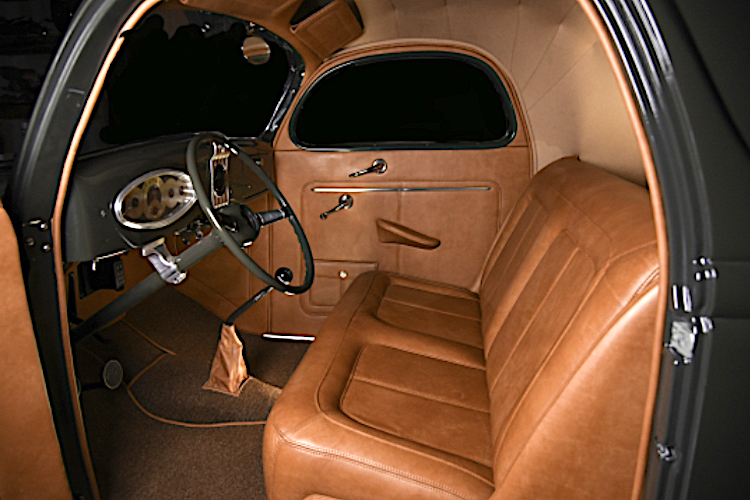 What's your upholstery pet peeve and why?
My upholstery pet peeve is definitely when customers think they know more than you or have a "great idea" that's actually just terrible. The amount of people that just don't have a single clue continues to baffle me. Questions like "can you use those patterns to do my full interior and then mail it to me?" make absolutely no sense, yet they think it's a great idea.
I'm sure this is a pet peeve for just about every trimmer. The jobs always turn out the best when I can just do my thing and create something nice and clean.
What's the best part about being a trimmer?
The best part about being a trimmer is stepping back when a full interior is complete, looking at what my two hands created, thinking about all the hard work it took to make the original sketch become a reality, and just enjoying it. The freedom I have with my business and getting paid to hang out in my shop and make cool things is pretty awesome too.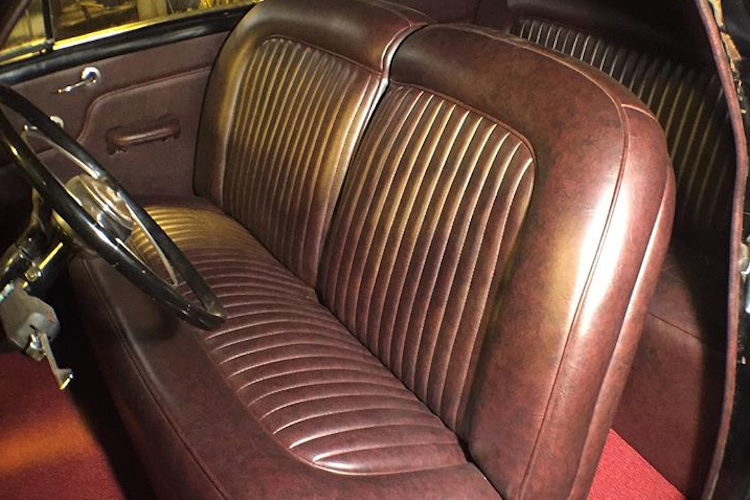 What concerns you most about the industry?
The most concerning thing for me about the auto upholstery industry, aside from being one of the few younger people in the industry, is all the high tech equipment being used these days. My passion for doing these interiors lies in the art form and using nothing but basic tools and my two hands to create things. While all the fancy equipment is great and makes things much easier I feel it takes a lot away from the craft. I look forward to furthering my skills as a person and creating something better than the last every time.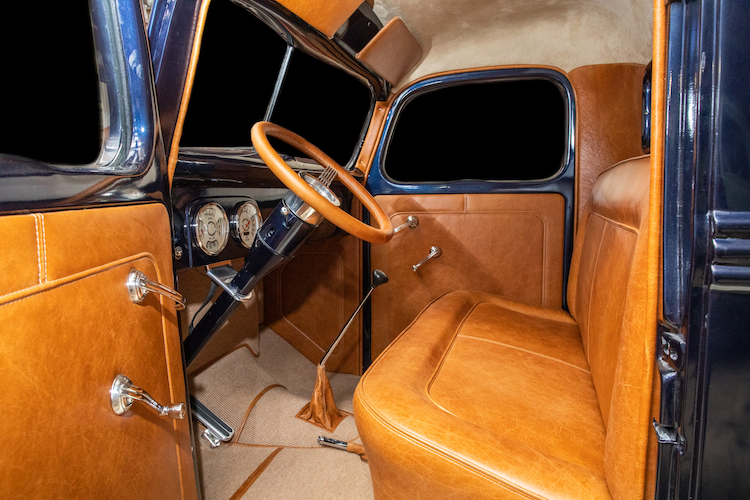 Find out how to be featured in our "Meet the Trimmer" series by emailing info@thehogring.com.