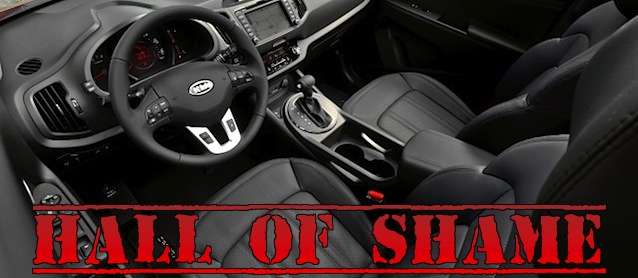 Kia Motors is being criticized for misleading customers into believing that its popular Sportage SUV is trimmed in genuine leather – when, in fact, it features almost no real leather at all.
The issue came to light after a member of an owners' forum noticed that Kia had updated its online spec sheet with an asterisk next to its mention of "luxurious full leather" to let customers know that it was, in fact, faux.
The UK's Auto Express explains:
Dr. Chris Castelli from Swindon in Wiltshire got in touch with Auto Express to complain. "About a year ago, I bought a Sportage KX-3 with full leather," he said. "I'm a member of an owners' forum, and a little while ago someone on there noticed that an asterisk had been added to the online spec details.
"This asterisk was linked to a footnote that said: 'Some parts of the leather upholstery contain faux leather.'"
A call to customer services confirmed that the disclaimer applied to cars built and sold before it was added. "We all feel like we've been misled," said Chris. "The original brochure described 'luxurious full leather', but when you actually ask Kia about this, it turns out there's actually very little leather used. It's mainly plastic or vinyl."
We asked Kia if it agreed it had misled customers and whether it would be offering unhappy owners compensation.
A spokeswoman told us the phrase 'full leather' was intended to differentiate it from the part-leather upholstery (which combines leather and cloth) used on lower-spec models. And that the use of faux leather was common among manufacturers.
She added: "We do recognise that our use of the term 'full leather upholstery' may be misconstrued," – so this phrase will no longer be used. "No deliberate attempt was made to mislead customers," she said, but no compensation would be offered to them. [more]
In other words, Kia blames customers for misinterpreting its description of "full-leather upholstery" to mean real, full-leather upholstery. It's absolutely shameful, to say the least.
Still, I can't help feel a little bit amused by the fact that Kia drivers can't tell the difference between real and faux leather. It's true that manufacturers have gotten really good at making fake leather look, feel and sometimes even smell like the real thing. But if you can't tell the difference, why splurge the extra cash to begin with?