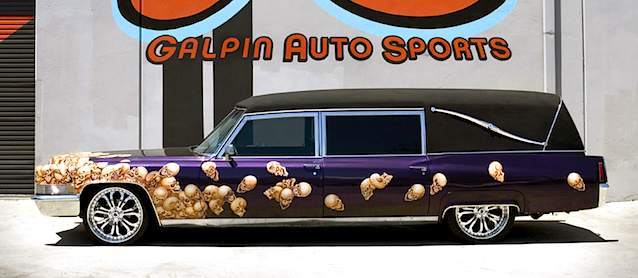 Our shop does not upholster hearses – they freak us out! But seeing as it's Halloween, we figured it would be okay to feature one.
Galpin Auto Sports in Van Nuys, California is responsible for this hair-raising ride. It's the type of car you'd expect a present-day Addams Family to drive.
Autoblog explains:
The hearse features a Halloween theme including dozens of hand-painted skulls on the front and side, as well as a spiderweb grille. It's not all spooky, though, and Galpin has made the interior an inviting place to be, with a working barbeque, chilled cooler, and a flatscreen TV all in the coffin. Not a bad place to spend your last few hours above ground! [more]
Pretty freaky, right? Hats off to the guys over at Galpin Auto Sports for having the courage to invite this thing into their shop.