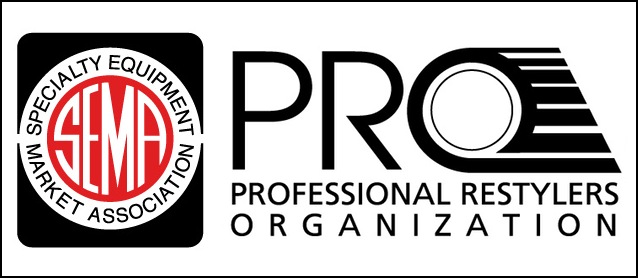 In recent months, there's been some talk among members of The Hog Ring community about starting a professional association for auto trimmers that can help with legal and business matters within the industry, as well as preserve and strengthen the viability of our craft.
However, the point has also been raised that such an association may already exist in the form of the Professional Restylers Organization (PRO) — a SEMA council that, while not solely dedicated to the craft of auto upholstery, has opened its doors to us and shares many of our interests.
In fact, Nat Danas – late founder of the now-defunct National Association of Auto Trim Shops and Auto Trim and Restyling News – was instrumental in the founding of PRO. To this day, the SEMA council awards an annual Nat Danas Person of the Year Award and scholarship in his honor.
Despite these familiar roots, SEMA defines "restyling" as something very different than what we're used to — lumping in audio and tint specialists, along with other aftermarket auto professionals, into the same category as auto upholstery. This has raised concerns among auto trimmers that PRO may not be focused enough on our craft to adequately address its needs.
Intrigued, we interviewed SEMA Public Relations Director Della Domingo to ask her to address these concerns:
1. There's some talk within the auto upholstery industry about starting our own professional association. Is that necessary given that SEMA PRO aims to represent the interests of the restyling community — which SEMA defines as including the craft of auto upholstery?
Auto upholstery businesses will definitely benefit by being a part of the Professional Restylers Organization (PRO). With over 220 member companies, the PRO council is an influential group that addresses the business concerns of the restyling market – which, as you note, includes the auto upholstery industry.
In fact, many of the council's current members are either directly involved with the auto upholstery market, or auto upholstery makes up a large percentage of their business.
Like all SEMA councils, PRO members work together to overcome industry challenges and collaborate to maximize opportunities within their market niche. SEMA councils tend to have greater success than groups operating independently because they have the added benefit of being able to utilize the association's resources, such as legislative experts, automakers and group buying discounts.
2. The term "restylers" includes practically everyone in the aftermarket industry — from auto upholstery to audio installers and even those who tint windows and sell accessories. If we forgo starting our own association for joining SEMA PRO, how would we ensure that our craft isn't lost in the shuffle?
Council members vote to determine who serves on the council's select committee – The select committee is a small group of elected volunteers who's job is to stay connected with the membership and advocate for programs and resources that best meet the members' needs. In that sense, PRO initiatives are determined by its members.
As mentioned earlier, the auto upholstery market already has a strong presence in the council. However, the more auto upholstery companies there are on the council, the more their concerns will be addressed.
3. What explicit benefits do independent auto upholstery shops gain by joining SEMA PRO?
One example of an immediate benefit that new PRO members can begin utilizing is in regards to sales through dealerships. The council offers its members a comprehensive guidebook filled with valuable tips and best practices on how to establish and maintain successful dealer-direct sales and service. This is an area that many of our members have expressed interest in growing, and one in which offers great potential. The guidebook was introduced a few years ago and has been incredibly popular with the group. In fact, the manual was recently updated to be more current and relevant.
Another example of a PRO member benefit is the collateral materials that they can use to communicate with customers about aftermarket warranties. Warranty issues continue to be confusing for consumers. This confusion can lead to lost sales, so PRO has created collateral pieces that its members can distribute to customers. The pieces clearly explain the laws surrounding aftermarket warranties and help instill trust and confidence from consumers.
4. What successes can you point to that SEMA PRO has specifically accomplished for the auto upholstery community?
There are many significant programs that will benefit auto upholstery companies. One example has to do with OEM letters or service bulletins. Because SEMA has established relationships with OEMs and access to expert technicians, the association is able to help members navigate concerns in this area. PRO recently created an easy way for its members to tap into the association's resources when they receive a service bulletin, thereby expediting any needed actions so that the potential impact on their businesses is kept to a minimum.
5. What are some issues / initiatives related to our industry that SEMA PRO is working on now that auto upholstery pros should be excited about and could help progress by joining?
As vehicles become more complex, it's important that the industry maintains a high level of professionalism and expertise. One of the council's priorities is establishing guidelines and best practices for seating and upholstery professionals. The group is working on developing a certification program attached to these best practices, so that employers can quickly and easily identify qualified workers, and consumers can feel confident and trust the service they receive.
6. What's the process of registering for SEMA PRO? And how can one become an active, influential member?
It's easy to get involved with PRO. Once a company joins SEMA, the company is able to add the PRO council on to their membership. As such, the company and all its employees are able to utilize all the resources and benefits of both the association and the council.
Members will also be able to participate in association and council events, which provide the best way for them to become actively involved. At networking events such as Town Hall meetings and council meetings, members can meet other members and voice their concerns.
It's clear that PRO has the infrastructure, network and resources to address a lot of our industry's business and legal needs. However, it's not as focused on the preservation and promotion of our craft as many auto trimmers would like it to be. The question is, should we swell PRO's ranks with auto trimmers who could help steer it towards our interests? Or should we start an entirely new organization to address our specific needs? Perhaps there's room for both approaches?
What do you think? Tell us in the comments section below.